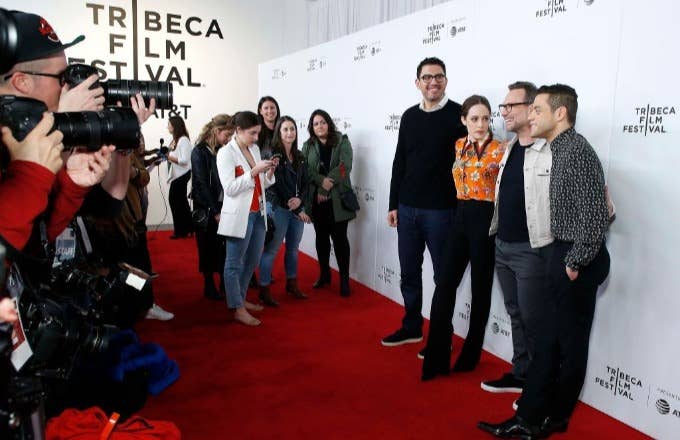 Though even reading that something called "A Farewell to Mr. Robot" went down during the Tribeca Film Festival is deeply bittersweet, at least we got some good, semi-revealing news that storied appreciators ofThe Office should find promising.
"You know what they typically do at the end—like [in] the British Office—they tend to do a Christmas special," creator Sam Esmail, whose Homecoming series launched on Amazon last year, toldVariety and other attendees Sunday. "And, so the final season of Mr. Robot is one very long Christmas special. It'll last over about a week over Christmas of 2015."
Esmail didn't reveal much further about the USA series' impending fourth (and final) season. Star Rami Malek, who's bagged an Oscar and a James Bond role during the time between Season 3 and 4, kept things similarly vague during a recent Jimmy Kimmel Live appearance.
"[Elliot Alderson]'s a character that I hold so deeply in my heart," Malek said. "It'll be hard to walk away from Elliot, but I agree, it's nice to walk away on a high note and the studio would love for us to continue but . . . I knew it was gonna be four or five seasons."
Season 3 closed out back in 2017 with "shutdown -r," an episode that saw Elliot reverse the infamous Five/Nine hack. The show is set to begin its final run later this year. While bidding farewell to Elliot marks a sad shift for Esmail and company, he said when announcing the final season last fall that the hardest part is actually bidding the same farewell to the show's dedicated fan community.
Here's to hoping David Brent isn't soon to be revealed as a covert Evil Corp employee.