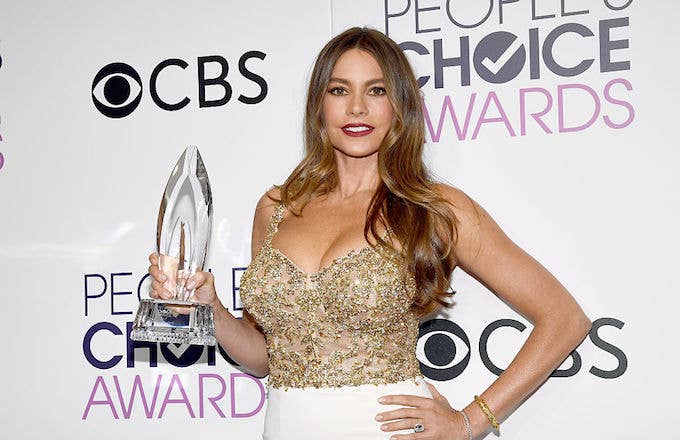 This has been a busy week for Forbes ranking enthusiasts. In addition to unveiling their annual (and once again Diddy-dominated) list of the highest-paid hip-hop artists on the planet, the business mag also gave us a similar ranking for the highest-paid women on TV. Modern Family's Sofia Vergara, for the sixth year in a row, tops the 2017 list.
Vergara earned nearly $20 million more than Big Bang Theory star Kaley Cuoco, whose $26 million haul through June of this year was enough for a strong second place finish. Vergara's Modern Family co-star Julie Bowen also makes an appearance on the list.
Peep the full top 10, which also features Mindy Kaling and Priyanka Chopra, below:
Sofia Vergara - $41.5 million
Kaley Cuoco - $26 million
Mindy Kaling - $13 million
Ellen Pompeo - $13 million
Mariska Hargitay - $12.5 million
Julie Bowen - $12 million
Kerry Washington - $11 million
Priyanka Chopra - $10 million
Robin Wright - $9 million
Pauley Perrette - $8.5 million
Vergara's massive $41.5 million earnings are notable for a variety of reasons, including the fact only a quarter of that income comes from the hit ABC sitcom she's called home since 2009. The successful multi-hyphenate also bags millions from endorsement deals including Pepsi and CoverGirl, as well as her current focus: personality-driven licensing deals. Unlike mere endorsements, the kind of licensing deals Vergara has secured allow her to be more selective with the products she promotes while also taking a cut of the sales.
Most recently, Vergara launched a subscription service for seamless underwear called EBY.
Each pair, regardless of size, costs the same price. A chunk of net sales (10 percent) will be put toward business loans for women all over the world.
Modern Family returns for season 9 Sept. 27. As ABC announced back in May, the series—which currently has 22 Emmys to its name—has been renewed through at least season 10.