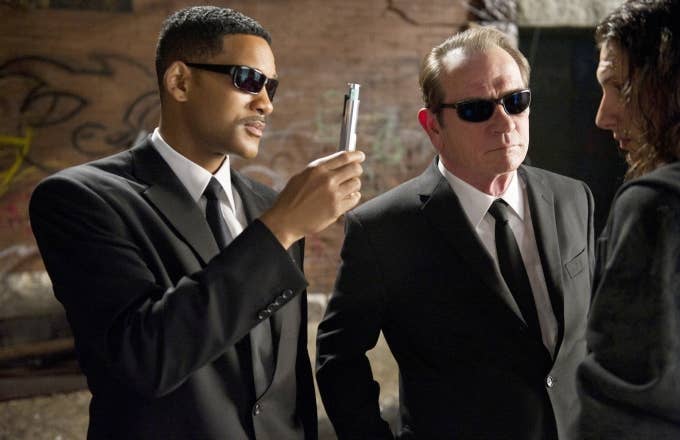 Let's avoid all the trite reboot criticism and savor the good news that's tucked neatly inside of some admittedly awful news: Men in Black is sliding back into theaters for at least three more movies. Sadly, Will Smith will likely have little (i.e. nothing) to do with any of them. The film's producers pretty much confirmed Sony's rumored reboot plans during a recent Toronto International Film Festival interview, though the details of that three-part revival might be a deal-breaker for some fans:
You produced Men in Black. Has there been talk of reviving that franchise with the new Sony regime?
Bummer. But also, wow, three more Men in Black movies! Parkes and MacDonald, who casually dropped this revelation during a talk with the Hollywood Reporter, are currently receiving a great deal of press surrounding their involvement in the critically acclaimed He Named Me Malala. Similarly, Will Smith is rather busy getting inked with his fellow Suicide Squad members and stirring NFL controversy with the forthcoming Concussion.
As noted by Collider, it remains unclear whether this supposed trilogy will have anything to do with the much-discussed 21 Jump Street crossover. At any rate, as long as those respectable worm guys show up for the reboot(s), all will be well in the world of comedic science fiction: