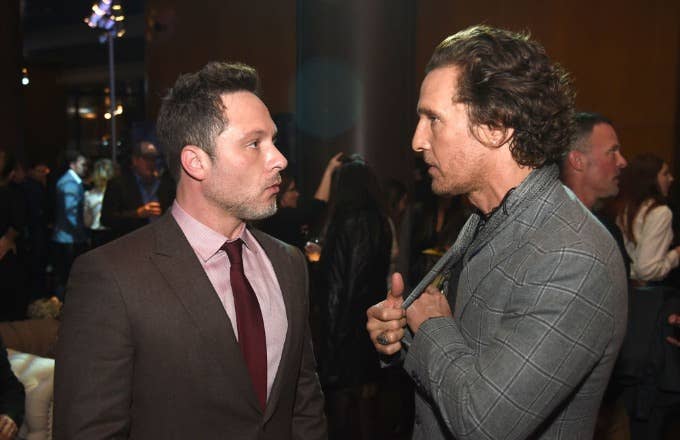 Good Great news for True Detective fans: Season 1 star Matthew McConaughey is reuniting with series creator Nic Pizzolatto for a new FX project titled Redeemer.
"We are thrilled to begin our creative partnership with Nic Pizzolatto and Matthew McConaughey on Redeemer, who are back together for the first time since the first season of HBO's True Detective," FX Entertainment boss Eric Schrier told the Hollywood Reporter on Tuesday, adding that his team is "incredibly excited" about their overall deal with Pizzolatto and McConaughey's first-look deal with FXP.
Pizzolatto is indeed moving his HBO overall to Fox 21 and FX Productions, where he will now create and develop new potential series for a variety of platforms. Redeemer, based on Patrick Colman's book The Churchgoer, is the first confirmed project to fall under the agreement and has been given a script-to-series commitment from FX.
The series will star McConaughey, who previously cooked up some magic on the inaugural True D as cigarette-cradling detective Rust Cohle, as a former minister who's now a security guard. The character is embroiled in a search for a missing woman in Texas, which certainly sounds like story territory that's rife with possibilities for some TD levels of watchability.
As is well-documented, the first season of True Detective was met with critical and commercial adoration. The same, however, could not be said for the follow-up. The series returned to glory with the most reason season, thanks in part to star Mahershala Ali. Tuesday's THR report makes clear the fact that, despite Pizzolatto's move to the FX world, HBO still has the rights to True D and sources have said that the network could renew the series for another round with a fresh showrunner.
Anyway, here's Rust on God and whatnot: