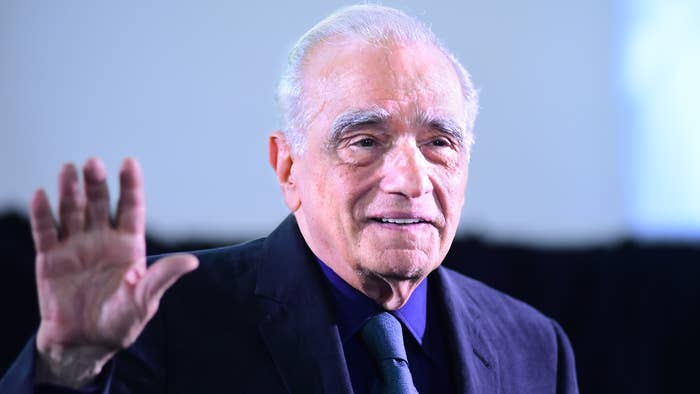 Whenever Martin Scorsese sits down for an interview, it's a given that you're going to get a plethora of insightful ruminations on how he continues to masterfully navigate The Art Life after decades of accomplishment as a filmmaker.
Unfortunately, the bulk of aggregation-spurred headlines attention surrounding these moments tends to focus on matters of Marvel. By the time I turn this very article in and it goes live on the site, for example, there's a fairly high chance that this too will fall into that tiresome trend.
Speaking with the always-great Zach Baron for GQ, Scorsese—whose latest film Killers of the Flower Moon is out in October—did indeed speak about the negative impact of Marvelification and related issues. But he also had far more interesting topics to unpack, including the points along his journey where he nearly walked away from it all due to incessant studio interference.
Gangs of New York (2002), for example, saw producer Harvey Weinstein meddling with his process in significant ways.
"I realized that I couldn't work if I had to make films that way ever again," Scorsese said of the experience. "If that was the only way that I was able to be allowed to make films, then I'd have to stop. Because the results weren't satisfying. It was at times extremely difficult, and I wouldn't survive it. I'd be dead. And so I decided it was over, really."
Weinstein, through Miramax, again meddled with Scorsese's process when it came to The Aviator two years later. The exceptional Howard Hughes biopic saw Scorsese "forced" into the position of having Warner Bros. distribute the film alongside Weinstein's Miramax, a pairing that ultimately resulted in the director putting half a million of his own money toward finishing the production after the studios halted funding.
The changing shape of the industry, however, was perhaps most evident during Scorsese's work on his 2006 Oscar-winning drama The Departed. As Scorsese recalled, Warner Bros. was pushing for a franchise, mainly by asking for one of the film's main stars to survive the story. At a test screening, per Scorsese, both the audience and the artists behind the film loved what they saw. Studio execs, however, were "very sad" about anti-art franchise fears.
"They wanted the franchise," Scorsese said. "Which means: I can't work here anymore."
Since then, Scorsese has changed his approach to film financing, resulting in a much smoother process than what he experienced in the 2000s. But that's not to say that he (as well as other filmmakers with actual vision and a passion for voice-driven storytelling) doesn't see problems with the state of the industry at large. Studios, he said, have "pigeonholed" those types of filmmakers to the "indie" umbrella term because they simply aren't interested in "supporting individual voices."
And yes, as touched on above, the GQ interview—which is very much your time and is best enjoyed in full, as intended—does see Scorsese again offering nuanced observations on how the Marvel effect stands to harm cinema. This is especially true, Scorsese noted, in how the films of our time will be viewed within a historical context many years from now.
"The danger there is what it's doing to our culture," Scorsese told Baron. "Because there are going to be generations now that think movies are only those—that's what movies are."
But Scorsese also sounds optimistic about the filmmakers who are offering up something different to audiences, citing the Safdies and Christopher Nolan as specific examples of proven providers of the true cinematic experience.
"Go reinvent," Scorsese advised. "Don't complain about it. But it's true, because we've got to save cinema."
Also for GQ, Scorsese sat down for a 23-minute video in which he breaks down the most iconic entries in his expansive filmography, starting with his 1976 classic Taxi Driver. Looking back to how he came to ultimately helm the Robert De Niro-starring film, Scorsese pointed to the Dostoevesky novella Notes From Underground as how he was able to connect to Paul Schrader's script.
"We kept thinking in terms of the character and his loneliness and his acting out,' Scorsese said of the journey of getting the still-influential film made. "Not condoning the acting out but he does act out, and yet an empathy with him which is really tricky."
See more below.