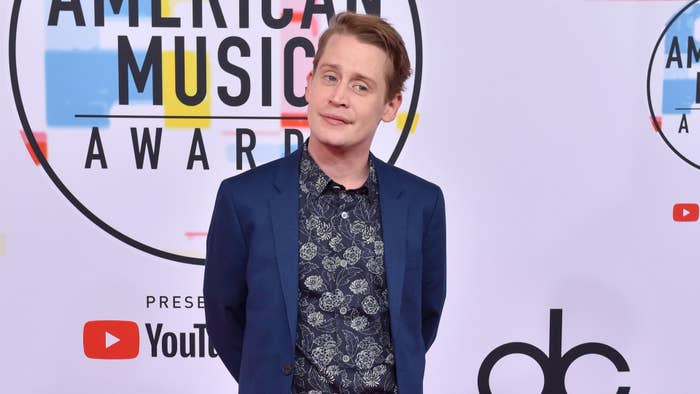 Macaulay Culkin has been announced as one of the stars of the upcoming tenth season of American Horror Story.
Series co-creator Ryan Murphy let the world in on the Culkin inclusion by way of an Instagrammed video confirming other cast members including Sarah Paulson, Kathy Bates, Leslie Grossman, Billie Lourd, Evan Peters, Adina Porter, Lily Rabe, Angelica Ross, and Finn Wittrock.
The role will go down as Culkin's first gig as a series regular on a live-action TV show. His other TV credits include a recurring voice part on Robot Chicken and the part of Andrew Cross on the 2009 series Kings.
In January, FX renewedAmerican Horror Story for three more seasons, meaning fans can look forward to (at least) 13 total seasons of the blockbuster-sized anthology series. Speaking on the renewal, FX boss John Landgraf touted Ryan Murphy and Brad Falchuk as the "undisputed masters" of horror TV. 
"[American Horror Story] has showcased a wealth of award-winning actors since day one and we appreciate the contributions of everyone, including Ryan, Brad and fellow executive producers Tim Minear, James Wong, Alexis Martin Woodall and Bradley Buecker, the writers, directors, cast and crew for each new, unforgettable installment," Landgraf said at the time.
Culkin, whose recent projects include the Bunny Ears podcast and a part on Hulu's Kat Dennings-starring Dollface series, spoke with Ryan D'Agostino for an Esquire piece published earlier this month in which he affirmed that he does still enjoy the creative process of acting. As for everything that comes along with it, however, he's not too keen.
Culkin compared the experience to The Shawshank Redemption, stating that to get a certain freedom he would have to "crawl through a tube of shit" first. 
"And you know what?" Culkin said. "I've built a really nice prison for myself. It's soft. It's sweet. It smells nice. You know? It's plush."