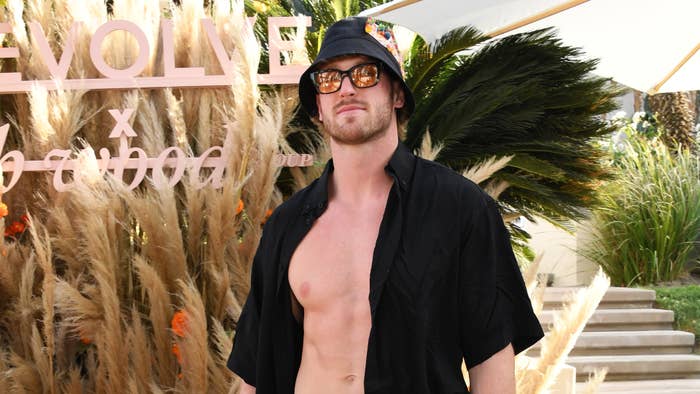 Though it's hard, if not impossible, to imagine anyone actually going to Logan Paul for their film criticism needs, one could argue that stranger things have happened.
As you may or may not have seen in recent days depending on your tolerance for such things, Paul—who was sued back in 2020 over the widely criticized "suicide forest" video—shared a series of tweets about Jordan Peele's latest (excellent) film Nope.
Not only did the YouTuber and WWE personality call the well-reviewed film "one of the worst movies" he's seen "in a long time," but he also proceeded to lay out a number of additional issues he claims to have had with the film, namely the film's thematic touches and how they related to the overall story.
Paul also questioned the behavior and importance of several characters, including art-forward cinematographer Antlers Holst, who—and this (as well as this entire article) counts as a spoiler—goes to fateful lengths to capture the perfect shot.
"I love Peele, the VFX & aesthetic," Paul—whose own filmography includes the widely panned Airplane Mode—said in the final tweet in his initial thread, shared Sunday. "But my thesis is this: I can feel him attempting to recreate the shock from Get Out and Us. Mystery, violent allure & cinematic choices made for the sake of reaction instead of legitimate contribution to the storyline killed this movie for me."
Peele himself recently spoke with Karla Rodriguez for Complex, resulting in a must-read interview during which he was asked whether he feels "pressure" as a filmmaker when it comes to following up acclaimed work with something fresh.
"You know, I think you have to treat them as separate entities," Peele said. "Because I think even if people think they want you to do something similar, they really want you to break out of that mold and so that's always the challenge I put on myself. How do I keep some essence of what people like about my work but give him something completely different and that's how we got Nope."
With that in mind, do enjoy a selection of people passionately defending Nope against Paul's criticisms below, then be sure to mask up and catch the movie at a theater near you. You won't regret it.