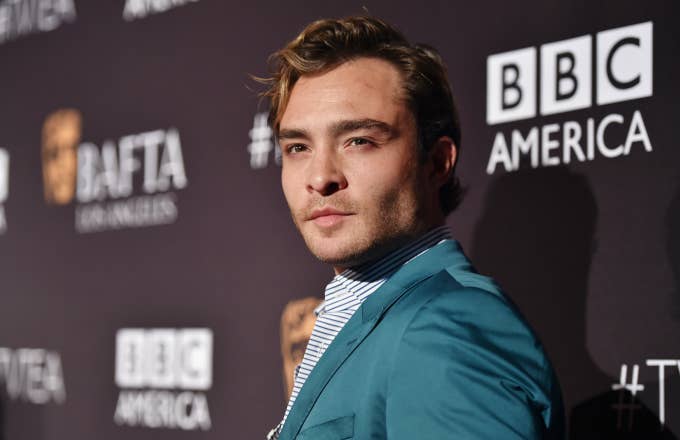 Actor Ed Westwick, known for his roles on the CW hit Gossip Girl and the BBC comedy White Gold, has been accused of raping actress Kristina Cohen.
In a Facebook post Monday, Cohen detailed the alleged rape, which she says happened at Westwick's house three years ago. "I was briefly dating a producer who was friends with the actor Ed Westwick," Cohen wrote. "It was this producer who brought me up to Ed's house where I met Ed for the first time. I wanted to leave when Ed suggested 'we should all fuck.' But the producer didn't want to make Ed feel awkward by leaving." 
Westwick then "insisted" they stay for dinner, telling Cohen she could take a nap in the guest room. The unnamed producer told Cohen they would stay for another 20 minutes to "smooth everything over" before leaving. Cohen ended up falling asleep in the guest room, at which point she was allegedly woken up by Westwick's fingers entering her body. "I told him to stop, but he was strong," she wrote. "I fought him off as hard as I could but he grabbed my face in his hands, shaking me, telling me he wanted to fuck me. I was paralyzed, terrified. I couldn't speak, I could no longer move. He held me down and raped me."
The unnamed producer later blamed Cohen for the alleged rape and said her career would be destroyed if she said anything. "I hope my coming forward will help others to know that they are not alone, that they are not to blame, and it is not their fault," Cohen wrote Monday. "Just as the other women and men coming forward have helped me to realize the same."
Read Cohen's full Facebook post here.
In a tweeted statement Tuesday afternoon, Westwick claimed to "not know" Cohen. "I have never forced myself in any manner, on any woman," Westwick wrote. "I certainly have never committed rape."
Cohen's accusations arrive amid a windfall of ongoing Harvey Weinstein revelations. A recent New Yorkerpiece from Ronan Farrow alleges that Weinstein hired ex-Mossad officers to target journalists and accusers, including Rose McGowan.