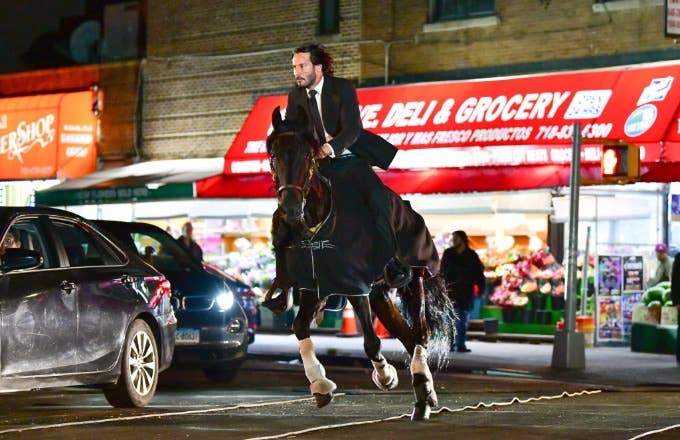 Esteemed actor, noted blazer impresario, and horse-assisted meme muse Keanu Reeves will now also be known as one of those rare souls going above and beyond to ease the general shittiness of air travel. Also, he's reportedly not fond of the food services provided by Blimpie.
Reeves was on a United flight out of San Francisco bound for Burbank over the weekend when the aircraft was forced to make an emergency stop in Bakersfield, per Yahoo Entertainment's report on this riveting matter. Fan-shot documentation of the resulting confusion surrounding affected travel plans shows Reeves savoring the sweet misery alongside his fellow passengers, even reportedly stepping in to assist with arrangements. 
Eventually, passengers were required to endure van transportation before boarding their next flight. During the ride, Reeves is said to have partaken in the public reading of some jovial facts about the city, as well as offered fellow beleaguered passengers a sampling of the region's country music.
At one point during the ordeal, the airport opened up a Blimpie for the group of passengers but Reeves "declined" to order from the establishment. Instead, he's said to have later procured the Gatorade, water, and banana trifecta somewhere along the journey.
Anyway, see more proof of the latest classic Reeves moment below:
This all bodes well for John Wick: Chapter 3 – Parabellum, which is out May 17 and surely features at least one incredible horse sequence.