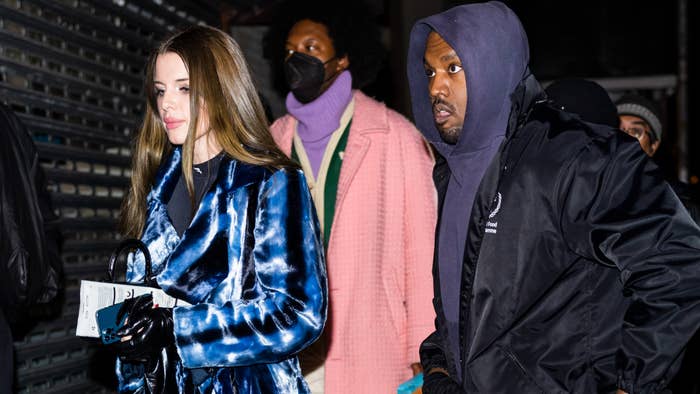 Julia Fox has opened up more about her relationship with the artist formerly known as Kanye West, saying in a new episode of her and Niki Takesh's Spotify podcast Forbidden Fruits that their connection is "very inspirational."
Speaking from a Los Angeles-area hotel room, the No Sudden Move star also touched on how she and Ye's respective personalities have quickly proven to be uniquely complementary.
"For right now, I'm just living in the moment and I don't have any expectations," Fox said at the 14:14 mark when asked by Takesh about the "new man" in her life. "There's no labels, there's none of that. It's just people that make each other feel better. It's really, like, such a Gemini-Aquarius connection. It's very inspirational."
From there, Fox detailed how her individual thought process works well with Ye's, and vice versa.
"Our minds, we both, like, work very fast," the actress and artist, who received acclaim and multiple awards nominations for her memorable turn in the Safdie brothers' 2019 instaclassic Uncut Gems, said. "We keep up with each other, which is cool. I talk very fast and I can have 10 trains of thought, whatever. What's really exciting about him is that any idea can become a reality. Like, anything is possible, any dream is possible. And I love that. And he's such a doer."
Closer to the 15-minute mark, Fox referenced recent studio sessions with Ye and Future. And while it's not explicitly stated exactly whose music was heard, it's worth pointing out here that Ye and Future linked up for a New Year's Eve event, not to mention the fact Ye pulled up for the Freebandz founder's 2021 Rolling Loud California set for a surprise performance.
"It's honestly just an honor to be in the presence and to be able to witness history happening," Fox said on the new Forbidden Fruits, released Thursday. "Even being in the studio with him and Future and listening to the new songs which, by the way, are fucking insane. That's really cool. I love that and I love music. Music has saved my life on many occasions." 
Deeper into the episode, Fox was asked to speak on mental health, which—as Takesh pointed out—has been used by some people in efforts to criticize the relationship.
"I mean, with the mental health thing it's like, okay, Ye has been open about his mental health struggles and I feel like I have been as well. … I feel like we need to destigmatize it and stop shaming us," Fox said around the 21:37 mark. "Like, what the hell? We didn't ask to be fucking born this way, you know?"
Fox also addressed a recently-made-viral-again 2019 Paper shoot with Pete Davidson (who's now linked with Kim Kardashian in numerous headlines), offered a brief retort to those who've speculated that this is all an orchestrated PR move, and more. Listen to the full episode below. Fox and Takesh's show has previously welcomed guests including former NXIVM cult member Michele Hatchette, writer Cat Marnell, and adult film star Natassia Dreams.