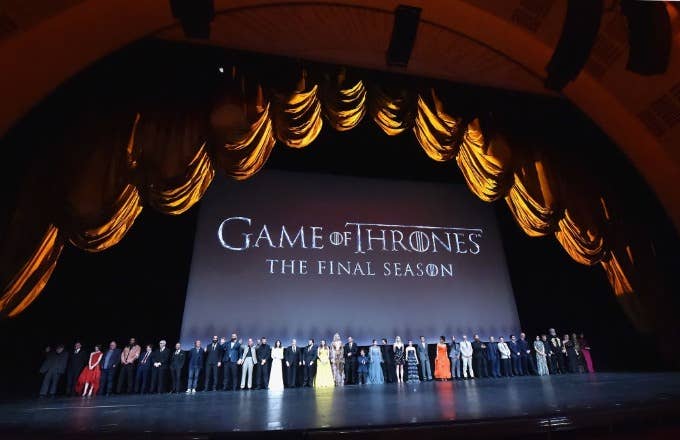 Nothing, presumably, works up a literal (and existential) thirst quite like wrapping up work on the final episode of one of the biggest TV shows of all time. To that end, there's a hint of inevitability to the hidden water-related Game of Thrones series finale cameos spotted by particularly eagle-eyed viewers Sunday night.
Indeed, "The Iron Throne"—penned and directed by Thrones bosses David Benioff and D.B. Weiss—features some water bottle shenanigans starting around 46 minutes into the episode. One such bottle, which sadly does not appear to contain water of the sparkling variety, can be seen behind Samwell's foot. A few moments later, another bottle is seen between Davos and Gendry.
Idiotically, some fans have placed the blame for this surprise modern water intake device cameo on the writers. So, um, for what it's worth: Writers are not typically on set for a series, or any production, checking for left-behind water bottles and/or coffee cups.
HBO hasn't publicly commented on this as of early Monday morning, but we should probably expect something in the way of a statement shortly.
At any rate, the importance of water still stands.
Speaking with Entertainment Weekly on finale happenings, i.e. SPOILERS, star Emilia Clarke said she still stands by her character Daenerys Targaryen. "After 10 years of working on this show, it's logical," she said. "Where else can she go?"