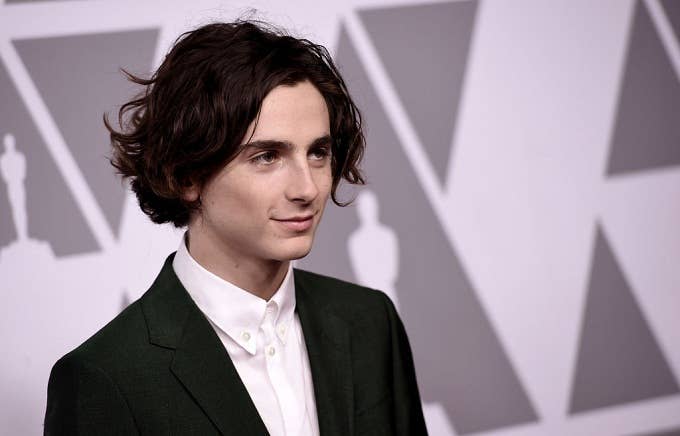 Few actors ever have the opportunity to say they're simultaneously in two Best Picture nominees. Timothée Chalamet, star of the excellent Call Me by Your Name and the equally excellent Lady Bird, has managed exactly that. For his most recent honor, Chalamet had the privilege of being interviewed by none other than Frank Ocean.
Ocean, who recently gave his thoughts on Call Me by Your Name via Tumblr, opened their VMandiscussion with an aside about Chalamet's name. "My dad is from France, so it's a French spelling, but it seems like too much of an obligation to ask people to call me that," Chalamet said. When asked if anyone yells out "Elio!" in the streets as a reference to his Call Me character, Chalamet confirmed "that's been happening" before explaining how not landing "more commercial projects" has helped his career. "I've seen certain actors, or musicians like you, keep a sense of integrity and mystery," Chalamet said. "That's ultimately what's been really awesome about Call Me By Your Name and Lady Bird as an introduction [to me]: I was up for bigger, more commercial projects, but I didn't get them. They just didn't choose me, and it's been gratifying, coming from more of a place of artistry and not just pure exposure." Chalamet has touched on this topic before, most recently recalling the "total panic" of his Spider-Man: Homecomingaudition.
Later, Ocean and Chalamet stumbled into the topic of the inimitable Joaquin Phoenix. "There's five or six artists I'm really trying to follow in the footsteps of creatively," Chalamet said. "I get the opportunity to be on the phone with one right now, but on the acting side, Joaquin is number one for me."
Ocean and Chalamet also talked Sufjan Stevens, Raf Simons, Studio City strip mall BBQ, the pleasantries of movies that took place in pre-smartphone times, and much more. The full exchange can be read here.
For his role as Elio Perlman in Call Me by Your Name, Chalamet bagged a Best Actor nod. Daniel Kaluuya, Daniel Day-Lewis, Denzel Washington, and Gary Oldman also scored nominations. Winners will be announced during the Jimmy Kimmel-hosted ceremony March 4.