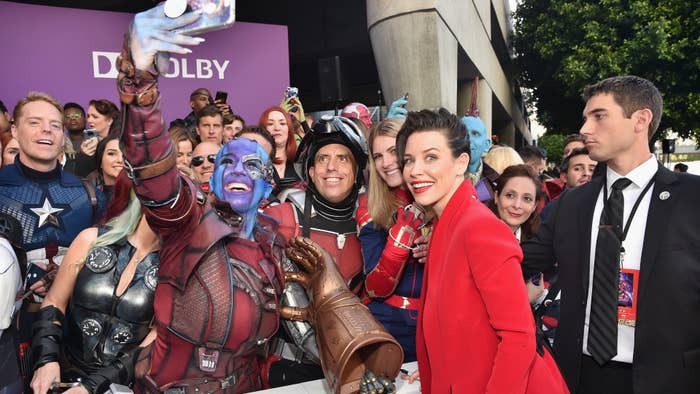 UPDATED 3/26, 7:15 p.m. ET: Evangeline Lilly has apologized after receiving backlash for her comments on the coronavirus pandemic.
Lilly took to Instagram to say she has been social distancing and doing her "part to flatten the curve." 
"I want to offer my sincere and heartfelt apology for the insensitivity I showed in my previous post to the very real suffering and fear that has gripped the world through COVID19," she wrote in the post. "Grandparents, parents, children, sisters and brothers are dying, the world is rallying to find a way to stop this very real threat, and my ensuing silence has sent a dismissive, arrogant and cryptic message. My direct and special apologies to those most affected by this pandemic. I never meant to hurt you."
See original story below.
While much of the entertainment industry is currently in the middle of a hard pause due to COVID-19, publicists whose clients insist on speaking about the novel coronavirus in any capacity other than "stay inside and wash your hands" have arguably not noticed a change in the work pace at all.
Lost alum Evangeline Lilly, for example, inadvertently kicked off a comments-housed conversation with her followers earlier this week when she shared a photo of her morning tea routine, adding in the caption that it was "#businessasusual" at her house. She also said she had just dropped her kids off "at gymnastics camp," noting that they washed their hands prior to entry.
"They are playing and laughing," she said.
As the comments criticizing Lilly's stance started coming in, the star of this year's Albedo series engaged in a respectful dialogue with fans about her approach during widespread lockdowns and additional social distancing measures.
"I think we all need to slow down, take a breath and look at the facts we are being presented with," she said in one of the ensuing comments. "They do not add up to the all-out, global lockdown, control, [pandemonium] and insanity we are experiencing. I hope that people will find their peace and sanity where you are soon."
Asked to clarify if she was in the middle of her own "corona house arrest," Lilly said she wasn't. "Not for this family," she said in another comment.
Lilly added in a separate comment that she's currently living with her father, who has stage IV leukemia. 
"I am also [immunocompromised] at the moment," she explained. "I have two young kids. Some people value their lives over freedom, some people value freedom over their lives. We all make our choices."
In a lengthier comment, Lilly detailed her views even further, telling one fan she believes they would actually "have a lot we agree upon" if they could have a face-to-face discussion:
It seems we have similar views and probably would have a lot we agree upon if we could sit, face-to-face, to discuss it. I bet we would completely agree on what we want and what we are trying to avoid, and then would challenge each other thoughtfully about how to achieve that. I'm having those conversations daily with people in my inner circle and am always considering and reconsidering my position. Where we are right now feels a lot too close to Marshall Law for my comfort already, all in the name of a respiratory flu. It's unnerving. I appreciate your engagement and the meaningful discourse. Let's be vigilant right now. And kind. Watchful and gracious - keeping a close eye on our leaders, making sure they don't abuse this moment to steal away more freedoms and grab more power, but gracious with each other as we try to navigate the unknown dangers of a modern, global world and power structure. Stay in touch. We're in this together. Thank you for listening. I have heard you. ❤️
Current guidelines, like those from the CDC, urge people to avoid public gatherings. Many regions across the States have also instituted closures of restaurants, clubs, and more as part of continued mitigation efforts.
And in related news, now's probably a very good time to give the Abrams x Lindelof x Lieber megaclassic Lost another full-binge spin.