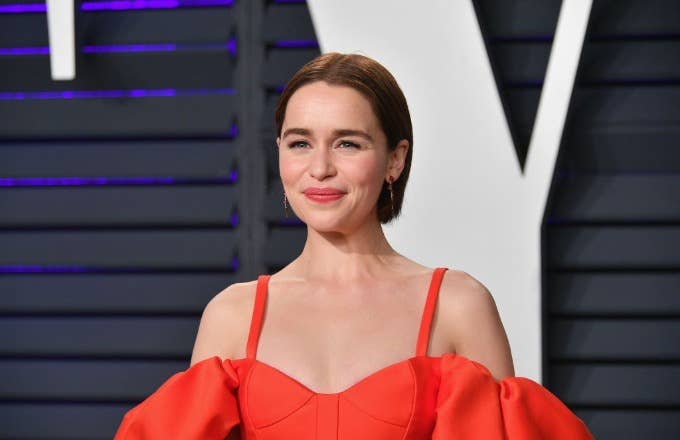 Emilia Clarke is speaking publicly for the first time about surviving two brain aneurysms during the early years of Game of Thrones.
In an extended op-ed for the New Yorker magazine, Clarke—who's back on HBO with the rest of the Thrones team next month—said she had "never told this story publicly" but the time was finally right.
Addressing the terror she felt with the sudden attention early 2011 brought, Clarke recalled a fateful training session in North London that February. Following a bad headache she tried to ignore and push through, Clarke was forced to stop the workout and head to the restroom. 
"I reached the toilet, sank to my knees, and proceeded to be violently, voluminously ill," she recalled. "Meanwhile, the pain—shooting, stabbing, constricting pain—was getting worse. At some level, I knew what was happening: my brain was damaged . . . To keep my memory alive, I tried to recall, among other things, some lines from Game of Thrones."
A woman in a nearby stall came to Clarke's assistance, with the Solo star ultimately receiving an MRI after being transported to a local hospital. A potentially life-threatening subarachnoid hemorrhage (SAH) was discovered. "I'd had an aneurysm, an arterial rupture," Clarke said.
Clarke, who now points to incidents earlier in her career as possible warning signs, then had a minimally invasive surgery. She was due back on the Thrones set "in a matter of weeks" after being released from the hospital. Clarke pointed to the Season 2 production as the worst of these experiences, saying "every minute of every day I thought I was going to die."
A smaller aneurysm had also been discovered, with a subsequent surgery not going as planned and resulting in doctors having to enter through the skull. Read Clarke's full piece, which also sees Clarke shouting out SameYou and addressing her previous decision to deny a gossip report on these incidents, right here. An aneurysm was previously mentioned in a Wall Street Journal report from 2014, as well as multiple gossip reports, in addition to the National Enquirer piece mentioned in Clarke's op-ed.
Earlier this month, HBO gave us the first full trailer for Thrones' hugely anticipated final season. Showrunners David Benioff and Dan Weiss have famously said they are aiming for Breaking Bad levels of greatness with the series finale, which they co-directed. 
Thrones is back April 14. Not ones to waste any time, HBO is already in the process of ensuring the Thrones universe maintains a pulse in the years ahead with a prequel and potentially other spinoffs.