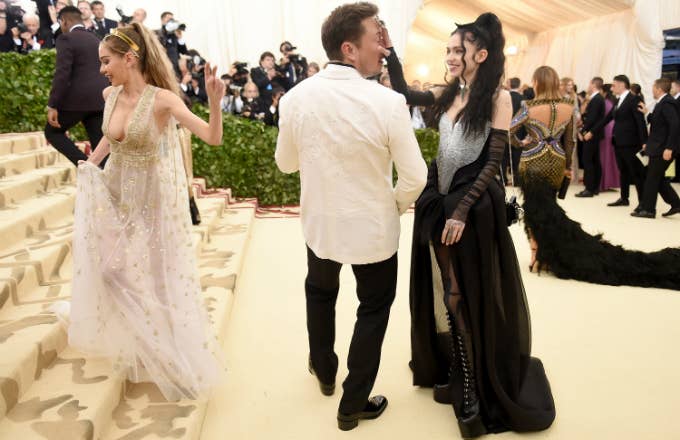 Today in shit that most certainly does not matter, we have an update on the Elon Musk and Grimes front, almost as if you or anyone you know requested such a thing.
The update arrives via the noted None of My Fucking Business peddlers over at the Daily Mail, who nefariously got their hands on some photos of Musk and Grimes at some sort of a pumpkin patch gathering in Los Angeles over the weekend. Musk's children were also there. That's it. That's the whole story.
I guess the basic approach to extending this story would involve reminding you that, back in August, multiple outlets took actual time to let everyone know that Musk and Grimes had unfollowed each other on social media. In the weeks since, Musk has remained in headlines due to some Tesla and SpaceX developments you surely heard about.
Last month, for example, Musk settled with the Securities and Exchange Commission after being sued for securities fraud. He also stepped down from his role as chairman of Tesla, a role he will now not be allowed to resume for three years. His status as CEO, however, remains active. 
"The total package of remedies and relief announced today are specifically designed to address the misconduct at issue by strengthening Tesla's corporate governance and oversight in order to protect investors," Stephanie Avakian, the SEC's Enforcement Division, said in a news release last month announcing the agreement. Musk was also ordered to pay a $20 million fine, which he can quickly recover from with the help of a little Teslaquila.