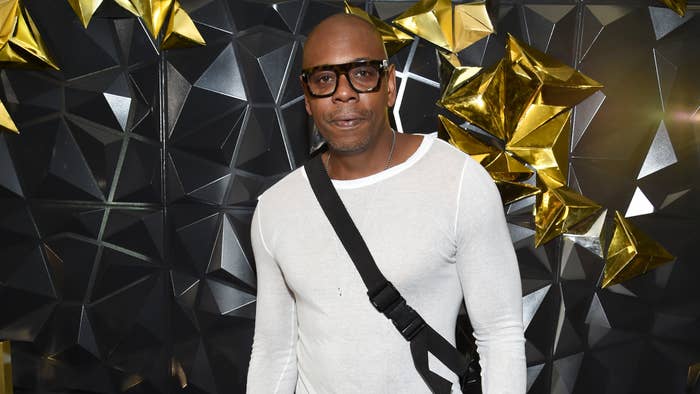 We are now one week removed from the release of Dave Chappelle's latest Netflix special, with the ensuing discussion surrounding its content—particularly, remarks that have been widely deemed transphobic—showing no signs of slowing down.
The special, titled The Closer, sees the 48-year-old comedian once again giving stage time to the non-issue of so-called "cancel culture." At one point in the special, Chappelle goes so far as to declare himself "team TERF," thus aligning himself with an ideology that intentionally excludes trans women in the larger push for equality.
And while much of the ensuing dialogue has probably gone as expected, especially with regards to "cancel culture" claims, more recent developments came as somewhat of a surprise. Below, we take a look at Chappelle's widely panned comments and the resulting pushback.
A little more than halfway into The Closer, Chappelle mentions writer J.K. Rowling, who in recent years was called out for her own transphobic remarks.
"They've canceled people that are more powerful than me," Chappelle said in the new special. "They canceled J.K. Rowling, my god. J.K. Rowling wrote all the Harry Potter books by herself. She sold so many books, the bible worries about her. And they canceled her because she said in an interview—and this is not exactly what she said but effectually—she said gender was a fact. And then the trans community got mad as shit. They started calling her a TERF."
Chappelle added that he didn't know "what the fuck that was" initially, using the opportunity to mock the trans community.
"I didn't event know what the fuck that was but I know that trans people make up words to win arguments, so I looked it up," he said. "TERF is an acronym. It stands for trans-exclusionary radical feminists, and this is a real thing. This is a group of women that hate transgender, they don't hate transgender women but they look at trans women the way we Blacks might look at blackface. It offends them. Like, 'Ew, this bitch is doing an impression of me.'"
Chappelle then noted he "shouldn't speak on this" because he's not a woman, but continued anyway.
"I am a feminist, that's right," he said. "I'm team TERF. I agree, I agree man. Gender is a fact. You have to look at it from a woman's perspective."
Later, Chappelle claimed he wasn't saying "trans women aren't women" before immediately rolling into remarks that contradicted that claim.
"I am just saying that those pussies that they got, you know what I mean?" he said. "I'm not saying it's not pussy but that's like Beyond Pussy or Impossible Pussy, you know what I mean? It tastes like pussy but that's not quite what it is. That's not blood, that's beet juice."
Deeper into the special, Chappelle mentioned Daphne Dorman, the late comedian and transgender activist who was previously referenced in another special. Dorman's family has since defended Chappelle in connection with the latest special. 
The latest special is designed as a "closer" of sorts for the comedian's series of Netflix specials. Featured in those previous specials, of course, are additional comments aligned with transphobic messaging.
In 2017's Equanimity, for example, Chappelle referenced a fan letter in which disappointment was expressed over prior transphobic comments. But this was followed in the same special by a questioning of what Chappelle believed was the heightened attention on trans issues.
Also in 2017, Vulture ran a piece on the first night of Chappelle's 16-show Radio City Music Hall residency, notably pointing out that the comedian "almost exclusively talked about trans issues" for the first 20 minutes of the set. Here's more, from Jesse David Fox:



"Chappelle didn't come off as a free-speech fire starter or an inflammatory punk trying to get a rise out of people. He just sounded old and out of touch, a fact that he touched on very briefly throughout the set, but not enough."
This approach continues on The Closer, although it's difficult to determine what the point of any of it is from an artistic standpoint.
In an internal memo obtained and shared by Variety, Netflix co-CEO Ted Sarandos addressed the criticism surrounding The Closer, stating the special wasn't "designed to incite hate or violence." Sarandos also shared his take on what he described as the measuring of "artistic freedom" in the stand-up medium. 
"It never feels good when people are hurting, especially our colleagues, so I wanted to give you some additional context," Sarandos said. "You should also be aware that some talent may join third parties in asking us to remove the show in the coming days, which we are not going to do."
On the same day the memo started making the rounds, however, we learned that a trans employee at Netflix had been suspended after sharing tweets about Chappelle's special. Per the Verge, a Netflix rep said the employee wasn't suspended for the tweets themselves. Instead, as clarified in a separate Variety report, a total of three employees were suspended after allegedly "crashing" a leadership meeting.
The National Black Justice Coalition has called for Netflix to "immediately pull" Chappelle's special, pointing to stats that show 2021 is on track to the be the "deadliest year on record for transgender people in the United States.' 
GLAAD, meanwhile, posted a message of praise for the viewers and pop culture critics who had been quick to share criticism of Chappelle's latest comments. The comedian's brand, the organization said in a tweeted statement, is now "synonymous" with the ridicule of trans people and other marginalized communities.
Criticism has also come from fellow creatives, including writer and advocate Jaclyn Moore. The Dear White People showrunner said shortly after the special's release that she was "done" working with Netflix.
"I will not work with them as long as they continue to put out and profit from blatantly and dangerously transphobic content," Moore said.
Chappelle has responded to the criticism he's facing over his latest special by again going the "cancel culture" route.
At a Hollywood Bowl screening of his new documentary, per Deadline, Chappelle touted a "kindness conspiracy" and made a statement that in and of itself undermines the "cancel culture" argument.
"If this is what being canceled is about, I love it," he said, later remarking on "all these stupid ass networks" to whom he doesn't want to talk.
TMZ also shared footage of the comedian being asked about the Closer criticism. The clip ended with Chappelle lamenting what he said were "dumbass questions."
In an open letter to Chappelle published in the Guardian, comedian Dahlia Belle—co-founder of Portland's Queer Comedy Festival—called the special "regressive" and criticized it as showing how a previously groundbreaking artist had "lost his way."
Chappelle, Belle said, has seemingly "run out of new ideas" and is stuck using a formulaic structure comprised of predictably "edge-lord" takes.
"Even so, as a longtime fan, something I always admired about comedy was its ability to push boundaries and challenge norms," Belle said. "Now it's 2021, and I think we can all agree that bitter old men griping about progress are killing comedy."
Comedian Damon Wayans, on the other hand, was not critical of Chappelle's latest special. Instead, he told TMZ he is of the opinion that Chappelle is both "a unicorn" and the "Van Gogh" of comedy.