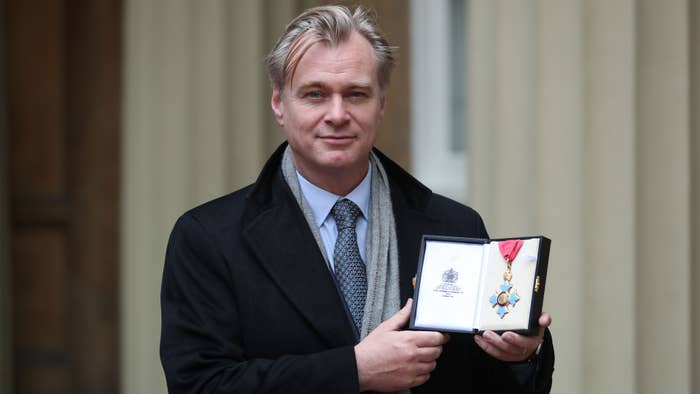 UPDATED 9/15, 12:15 a.m. ET: The Hollywood Reporterpublished an inside look at what it took to land Christopher Nolan's next film.
According to the report, Nolan's list of stipulations included "a 100-day theatrical window, around a $100 million budget, equal marketing spend, 20 percent of first dollar gross, and a blackout period where the studio would not release another movie for three weeks before and after the feature."
See original story below.
UPDATED 9/14, 11:29 a.m. ET: Christopher Nolan's J. Robert Oppenheimer-focused WWII project now has a home.
Deadline's Mike Fleming Jr. reported on Tuesday that Nolan, who was previously reported to be in talks with multiple potential studios, will be working with Universal on the new film. Notably, this will mark the first time in more than 10 years that Nolan has not been under the Warner Bros. banner. The new report also adds that production is slated to begin in early 2022.
See original story below.
Christopher Nolan is reportedly in the process of setting up his next project, which is said to place its focus on J. Robert Oppenheimer and the atom bomb.
Worth particular note, as pointed out in Mike Fleming Jr.'s Deadline report, is that the Tenet and Dunkirk director has been speaking with "several of the major studios." Fleming speculates that this could be an extension of Nolan's famously public criticism of Warner Bros. and HBO Max's theatrical-and-streaming release approach. Also noted in the report, however, is that it's not currently clear whether Warner Bros. is among those aiming to secure Nolan's latest.
For now, the untitled film is described as similar to Dunkirk in scope, with Nolan again diving deep into the World War II era. Previous Nolan collaborator Cillian Murphy, fresh off a turn in John Krasinski's A Quiet Place sequel, is rumored to be connected with the project.
Oppenheimer, a theoretical physicist, is widely referred to as "the father of the atomic bomb." 
Complex has reached out to a rep for Nolan for additional comment and will update this post accordingly.
In his most recent film Tenet, released roughly a year ago following delays spurred by the earlier days of the pandemic, Nolan enlisted John David Washington and Robert Pattinson for a compelling time inversion tale featuring a soundtrack contribution from Travis Scott and Ludwig Göransson titled "The Plan." 
"I feel like with albums you take your life stories, put them into lyrics and spread them out across 16 songs. … This wasn't so much about me, but me in this world of Tenet," Scott later said when reflecting on the unique creative process behind the song.