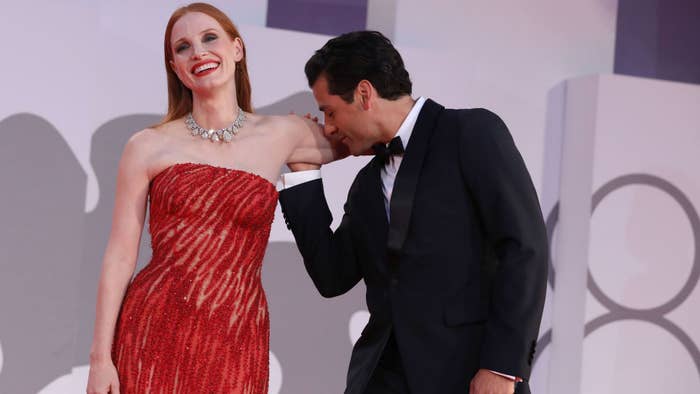 After the internet swooned over Oscar Isaac and Jessica Chastain's red carpet interaction at the Venice International Film Festival last week, the actress has decided to use the viral moment to plug their latest project together. 
The co-stars—who are longtime friends—walked the red carpet to promote the HBO limited series Scenes From a Marriage, holding hands, embracing, and looking lovingly at one another. At one point, Isaac even kisses Chastain's arm for all the world to see.
The video ultimately went viral, perhaps aided by the fact that both actors have spouses; Chastain is married to fashion executive Gian Luca Passi de Preposulo, and Isaac is married to director Elvira Lind. The buzz around the video was so loud, that Chastain decided to get in on the fun. On Monday, she tweeted out a photo of The Addams Family's Gomez Addams kissing Morticia Addams' arm, alongside the Sept. 12 release date of Scenes From a Marriage.
The series follows Chastain and Isaac's characters Jonathan and Mira, a married couple that goes through a decade of love, monogamy, divorce, and more. The adaptation of Ingmar Bergman's 1973 Swedish miniseries is the first time the Juilliard classmates have teamed up on a project since 2014's A Most Violent Year.