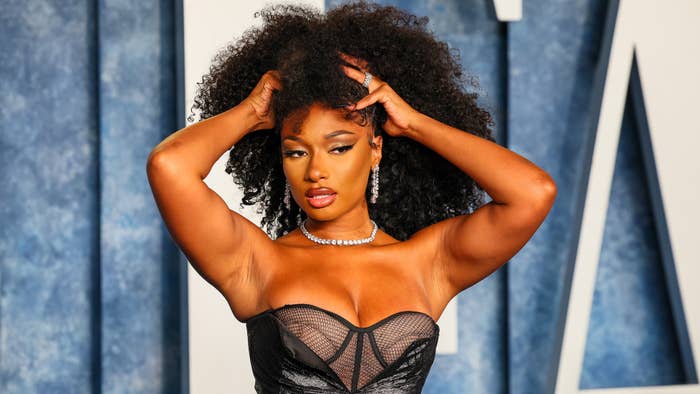 Megan Thee Stallion appears to be continuing her inroads into acting.
Deadline reports that the Houston rapper is in talks to star in Josh and Benny Safdie's new Netflix film, alongside Adam Sandler. While specifics about the movie are largely being kept under wraps—including the title and plot details—it's been confirmed that the film will take place "in the world of sports memorabilia," the outlet writes.
The Safdies are set to direct and produce the movie, for which they wrote the screenplay, and it will go into production in the coming months. Sandler and the Safdies previously worked on the A24 film Uncut Gems, which released in 2020 and became an instant cult classic.
Meg has been cutting her teeth at acting, appearing in episodes of She-Hulk: Attorney at Law, P-Valley, and Good Girls. She's gearing up for her feature debut in A24's musical comedy Fucking Identical Twins, alongside Nathan Lane, Bowen Yang, and Megan Mullaly. The film has been described as a rebellious take on the classic, The Parent Trap. A release date hasn't yet been set.
Earlier this month, rumors spread that Megan and Cardi B were going to star in a reboot of Robert Townsend's B.A.P.S. While Townsend hinted at the two rappers' involvement in an interview with Slash Film, Cardi later denied that a remake is in the works.
"I don't even know where that rumor even came about….Maybe because we looked soo cute in the Wap video?" she wrote.
The original 1997 film featured Halle Berry and the late Natalie Desselle-Reid.
In other Megan news, Thee Stallion herself threw out the first pitch at opening night for the Houston Astros, who are taking on the Chicago White Sox: