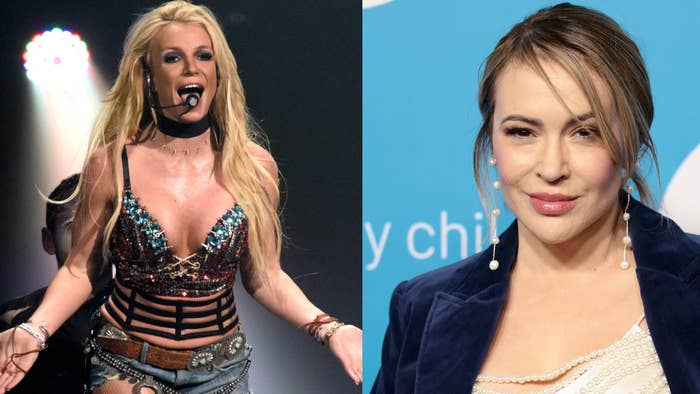 Britney Spears didn't appreciate Alyssa Milano's perhaps well-intentioned tweet aimed at the singer.
On Dec. 21, Milano took to Twitter, writing, "Someone please go check on Britney Spears."
It seems Spears caught wind of the comment recently and responded to Milano this week, writing on her Instagram Story, "It saddens me to see things about me from people who don't know me!!! This definitely feels like a form of bullying!!!" She continued, "Ladies, we are supposed to be rooting for one another not pulling one another down!!!"
Spears saw Milano's remark as bullying, and, according to TMZ, the actress has now apologized. Milano's rep spoke with the outlet. "Alyssa reached out to Britney privately Wednesday to apologize after [Spears] took to Instagram to slam a tweet of Alyssa's that she considered 'bullying,'" TMZ writes. "As for how AM got the message across … Brit sources tell us she sent a private message Britney's way this morning."
The outlet also added that Milano "expressed support" towards the pop star. However, it's not known how Spears responded to Milano's apology.
It's unclear what prompted Milano's tweet. The message came weeks before a recent incident involving Spears, during a dinner out with her husband in Los Angeles in mid-January. News emerged that Spears got upset when fellow restaurant patrons took out their cell phones to capture video of her. Witnesses said she was "manic" and that her husband, Sam Asghari, eventually left the restaurant, also upset. However, Asghari later slammed reports that his wife was having a "manic episode."