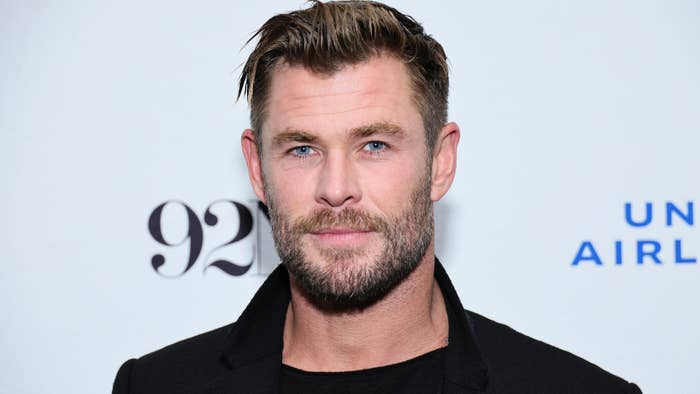 Chris Hemsworth's loyalty to Marvel runs deep.
In an interview with British GQ, the actor spoke about negative comments from two top Hollywood directors, Goodfellas auteur Martin Scorsese and Pulp Fiction creator Quentin Tarantino.
The 39-year-old said their disparaging statements were "super depressing."
"There goes two of my heroes I won't work with. I guess they're not a fan of me," Hemsworth said, later clarifying he would still personally "leap to work with any of them."
In 2019, Scorsese stated that the Marvel Cinematic Universe is "not real cinema" in a conversation with Esquire. On a podcast last year, Tarantino shared his opinion on the matter. "Part of the Marvel-ization of Hollywood is…you have all these actors who have become famous playing these characters. But they're not movie stars," Tarantino said. "Right? Captain America is the star. Or Thor is the star. ... I think that's been said a zillion times…but it's like, you know, it's these franchise characters that become a star."
Hemsworth expressed his gratitude to Marvel, after playing the Norse god-turned-superhero for over a decade. "I'm thankful that I have been a part of something that kept people in cinemas. Now, whether or not those films were to the detriment of other films, I don't know," he told GQ.
He continued, "I don't love when we start scrutinizing each other when there's so much fragility in the business and in this space of the arts as it is…I say that less to the directors who made those comments, who are all, by the way, still my heroes, and in a heartbeat I would leap to work with any of them. But I say it more to the broader opinion around that topic. I don't think any of us have the answer, but we're trying."
It remains uncertain if Hemsworth will reprise his role in the future as he revealed he tends to get "sick of the character pretty quick every couple of years."
"If I was going to do something again it would have to be tonally different," he admitted. "And we'd have to do something very drastic to keep people on their toes. Otherwise it's just the fatigue of those characters and those films, where people are like, 'I've seen it.'"
Read the full piece—which also contains the actor being teased by 8-year-olds about Thor: Love and Thunder—here. Chris Hemsworth's new film Extraction 2 will release on Netflix on June 16.