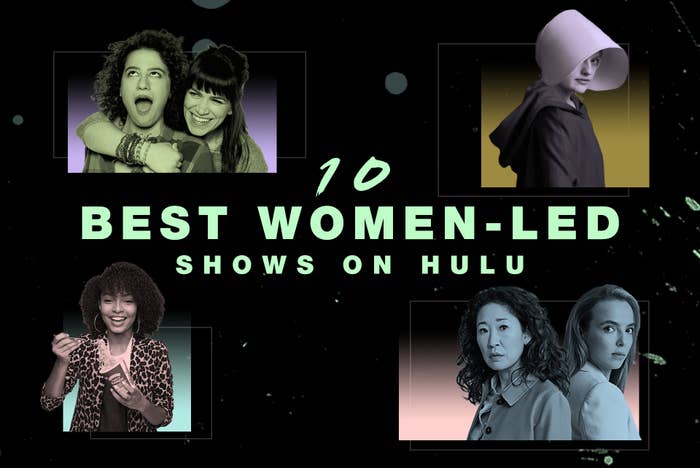 Women's History Month is upon us and what better way to celebrate the occasion than by tapping into the spirit of some of the most powerful, bold, and comedic women in pop culture. Thanks to Hulu, there are countless shows at your fingertips featuring female leads and storylines that celebrate sisterhood across several genres. Whether you're looking to catch up on an old favorite or discover a new one, here are 10 suggestions for women-led shows streaming on Hulu right now.
Gilead, which used to be the United States, is a totalitarian society ruled by a regime that treats women like property of the state. Environmental disasters and a tanking birth rate have led the government to making desperate attempts to repopulate the world by forcing the few remaining fertile women into sexual servitude, including Offred, who is is determined to survive and find the daughter that was taken from her. She may be down, but she is not entirely broken. Two seasons are currently available on Hulu, with a third on the horizon.  
This Elizabeth Banks and Lorne Michaels-helmed comedy is based on Lindy West's best selling 2016 memoir, Shrill: Notes Form A Loud Woman. The series revolves around Annie, a body positive full-figured woman who grows tired of juggling bad boyfriends and an unfulfilling career. Annie plans to live the life she imagines for herself despite people around her deeming her "not good enough" because of her weight. This feel-good Hulu Original premieres March 15.

Around the Way is a three-part series that celebrates Black History Month by exploring the histories of Atlanta, Los Angeles, and New York. Notable guests who work in arts, entertainment, sports, education, politics and business offer insight into the struggles and success that have come to define the Black experience around the country. Famed politician, lawyer, and novelist Stacey Abrams makes an appearance in the Atlanta episode to drop gems on Black female icons such as Dorothy Dandridge, Josephine Baker, and Dorothy Height.
In this spin-off of Black-ish, Yara Shahidi reprises her role of Zoey Johnson as she explores life after leaving the nest. Zoey and her motley crew of friends navigate the many highs and lows as college students getting their first real taste of independence from their parents. Tackling real issues with splashes of comedy, it's a show for millennials by millennials.
Sisters Callie and Mariana Foster look to make names for themselves in the City of Angels—Callie in the world of tech and Mariana as a legal clerk. They quickly discover that the bright lights of L.A. and life away from their parent's house is not all it's cracked up to be, but through their sisterly bond and support system they find a way to make it through.
Better Things follows the misadventures of Sam Fox, a divorced actress raising three daughters on her own. With her oddball mother living across the street, Sam struggles to find time for herself as everyone else's needs often come before her own. It's a relatable arc that makes for compelling storytelling with a dose of humor that gives the series its heart.  
An orphan girl is humanity's only hope after scientists looking to find the cure for a terminal illness accidentally turn a group of death row inmates into vampires. The girl's surrogate father tries to protect her at all costs while government officials from Project Noah try to figure out how to weaponize her emerging powers for their own nefarious goals.
Based on the critically-acclaimed Web series of the same name, Broad City follows a pair of 20-something best friends trying to make their way through New York City. No matter how messy things get for the pair, they always manage to (barely) survive oft-sticky situations because... girl power.
This comedy series takes viewers back to the awkward years of middle school. Set in the year 2000, the show lets viewers delve into the world of two young girls figuring out the ropes of junior high and budding teenagerdom. It's goofy goodness at its finest.
Killing Eve is a British drama series based on Luke Jennings's Codename Villanelle novella series. The television adaptation, starring Sandra Oh, chronicles the life of Eve, a woman charged with hunting down a ruthless assassin named Villanelle. It's a high stakes game of cat and mouse that leaves you wanting more.