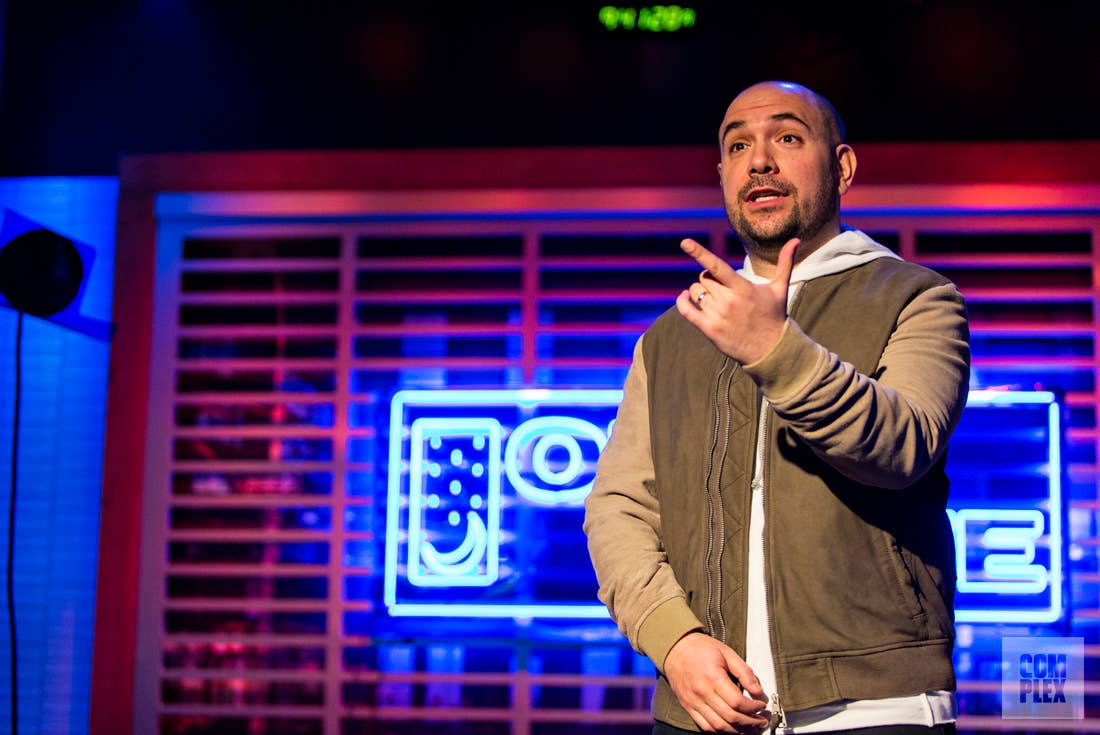 Peter Rosenberg is in the opinion business. That's the phrase the longtime Hot 97 morning show host uses as we're driving to Complex to begin a hectic afternoon of prep for his new late-night show, Open Late. And the fact that he's in that business is borne out by the sheer number of opinions he expresses throughout the 13-plus hour day I follow him around for this story: 45 by my count, most of them said into a microphone—plus, probably a dozen more I missed because I either wasn't in a position to take notes or near-faint from hunger (more on that last part later.)
A running list of Peter Rosenberg's opinions, 6:30-9 a.m.:Stephon Clark's brother (get some rest, then go back to activism). Cynthia Nixon's gubernatorial run (give her a chance). DMX's tax evasion case (he feels bad about the guilty verdict, but the violations were egregious). Tyrone Hankerson case (too perfect—maybe made up by Trump). Uber (feels bad about its international expansion). Corey Feldman (crazy, publicity hungry, but probably actually molested when younger). Tiffany Haddish (not that funny, but still needs to see 'Girls Trip'). Male cheerleaders in the NFL (for it, but unenthusiastic). The first episode of 'Roseanne' (the Trump stuff was well done, and the Roseanne character looked dumb). NFL cheerleaders (should be allowed to date players).
It's March 29, two weeks to the day from Open Late's premiere. So Rosenberg's normal day of recording a couple radio shows—Hot 97's morning show and the sports talk program The Michael Kay Show on ESPN radio—is bisected by our visit to Complex. In addition to those three jobs, the busy media personality also has a weekly Sunday night underground hip-hop show on Hot, occasional TV work with the WWE (he receives his coveted all-access Wrestlemania pass in the mail during the day we spend together), a wrestling podcast, and a different podcast with Mike Tyson. Today, from meeting in his lobby a few minutes before 6 a.m. to finally splitting at 7:20 p.m., Peter is expressing opinions and thinking about his career nearly continually.
Open Late is exactly the type of show that Rosenberg has been hoping would come his way for a long time. The last time I interviewed him, way back in 2012, he talked about wanting a Jimmy Kimmel-style late night show. This program is his shot. The show, which airs on YouTube once a week on Thursday nights at 10 p.m. EST beginning on April 12, will have Peter delivering an opening monologue, moderating a panel, conducting a one-on-one interview, and bringing on a musical guest. Other ideas—for taped skits, for an in-house producer—were being thrown around during the day I was there, and will likely work their way into the finished product as well.
Open Late's beginnings came in the wake of Rosenberg hosting Complex's 2016 election night coverage. Despite it being, in his words, the "worst night ever" because of the outcome, he aptly handled everything the nearly five-hour shift brought him, from talking police violence with Erica Garner to discussing the finer points of the Florida electorate, all while keeping an eye on the delegate count. Peter had, after all, grown up in quite the political family—his father MJ spent decades working on Capitol Hill.  
Towards the end of 2016, discussions between Peter and then-EIC Noah Callahan-Bever started around the idea of having the longtime radio guy host his own late night show. And as we're moving around today, with the first show looming and no guest yet booked ("I have a weird positive hunch that we're going to get someone we want," he tells me at one point), Peter pivots between self-assurance and doubt.
"I've been confident my entire life, in everything I do," he says, just seconds before admitting that he's "sensitive" and gets "sort of rattled" by internet hate. He's a "pretty upbeat, positive person all the time," but cops to sometimes posting his thoughts "in a troll-y fashion" in order to have an impact. "I don't consider myself a professional provocateur," he explains after talking about the reaction to one of his recent Instagram posts, a shot of him with the controversial 2Pac-dissing rapper Lil Xan. "But it is sort of that."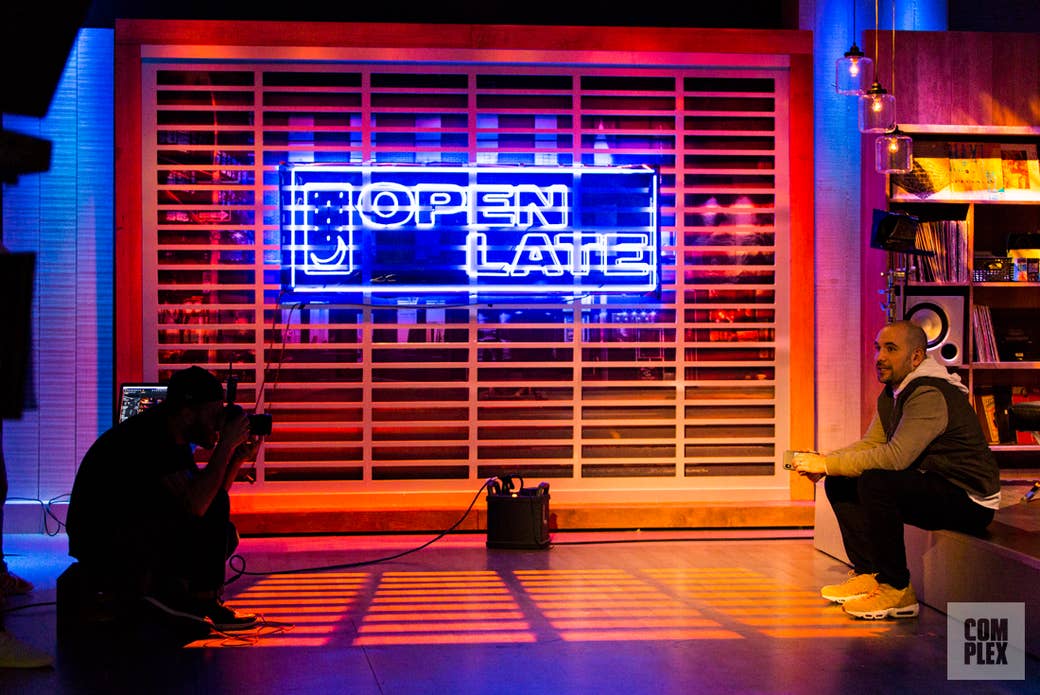 A running list of Peter Rosenberg's opinions, 6:30-9 a.m., continued: Mets pitching staff (better than the Yankees). Yankees (wants them to lose every game). Mets ownership (terrible). J-Lo vs Britney (J-Lo had longevity, Britney was bigger at her peak). Britney (not one of the top 20 pop stars of all time, music was "trash"). Lil Dicky/Chris Brown video (it's funny). Uber (loves it, but hates that drivers don't know where they're going). #MeToo (despite the movement, violence against women is as bad as ever). Michael B. Jordan (more built than Mike Tyson in his prime).
Once we meet in the lobby of his building a few minutes before six, Peter and I jump in his car and drive to Hot 97. After I get settled in a corner of the room, I observe the rhythms of the morning show. The broadcast goes from 6 to 10 a.m., but the first hour is slow. People are checking their laptops for stories, and Peter spends the commercial breaks getting a haircut and a shave from his one-time assistant/now part-time Hot 97 personality Hip Hop Mike. But from 7 to 9, as the level in Peter's iced Dunkin' Donuts coffee moves ever-lower, the show comes alive. Ebro Darden, the show's top-billed host—and the man who discovered Peter and brought him to Hot 97 in the first place back in 2007—knows how to play Rosenberg like a fiddle, continually baiting him into more and more outrageous reactions. Ebro, 43, has about five years on Rosenberg and has figured out how to push his protege's buttons, and does it exquisitely during a segment about Roseanne.
Ebro mentions the show, whose reboot had premiered the previous night. He hypothesizes that Peter must have identified with it growing up (Darden later explains, when Peter is out of the room, that he was only thinking of race, not economic circumstance). Peter, who grew up, in his words, "upper middle class," takes the bait: he says that Ebro thinks all white people are the same—doesn't Darden understand that genteel, suburban Chevy Chase, Maryland is nothing like blue-collar Illinois? This turns into a long, comic back-and-forth about race, income levels, and the relative significance of basements on the east and west coasts. It's great radio, though it cuts a little close to the bone: Peter recaps the segment as we walk out of the studio a little after 9 a.m. to head to Complex, running through the reasons why Ebro must have been "totally trolling."
We drive to the Complex office in Times Square, and pull into a $50/hour garage just before 10 a.m. Once we make it into the office, we head to the back hallways of the ninth floor that house the TV studios. Some of the first people we run into are Everyday Struggle co-hosts Nadeska Alexis and DJ Akademiks. All of a sudden it feels like we've stepped into a TV crossover episode, something showrunner Andrew Goldstein, a longtime friend of Peter's and an experienced showrunner/writer/producer who he brought in to helm Open Late, comments on excitedly. "This is like when the SNL cast member runs into the Seth Myers people in the hallway," he says.
"I don't consider myself a professional provocateur, but it is sort of that."
During our three-and-a-half jam-packed hours at Complex, it becomes clear exactly how much is riding on Peter's shoulders. There are no less than half a dozen people—rising up to 14 at one point during a photo shoot on his show's still-in-progress-but-nearly-finished set—around him at all times. And now, the opinions are not about rappers or baseball, but about the relative merits of shirts underneath blazers (T-shirts preferred over button-ups), or the look of the fake flyers that are put up on a bulletin board on Open Late's set (they're not crooked enough). In wardrobe, he tries a white T-shirt underneath a black leather jacket, and immediately pronounces it "a little too Fonzie." Finally, wardrobe decided, we head to the shoot.
James Brown and Kool & the Gang play over the speakers while Peter quietly, almost imperceptibly, nods his head between shots. More than his near-constant monologue or comic asides ("Shawn, make sure you put that in the article," he yells after the photographer pays him a compliment), it is those type of quiet moments involving music that give you a real idea of who Peter Rosenberg is. It's the way he proclaims, "This song is so good" when ODB's "Baby C'mon" pops up on his car stereo. Or the excitement on his face when he first spies his long-in-storage early '90s go-go concert posters for the likes of Chuck Brown and Hot, Cold, Sweat. Or how, during our middle and end-of-day stops at his apartment, he can barely wait to show me his jukebox of 45s or his Japanese mini-turntable that plays three-inch records.
In the middle of all the activity of the day, it becomes clear that hosting Open Late is very different than being second or third mic or a radio show, even a prominent one. "As much as when I'm doing my other stuff, it's like, I want my own show," Peter tells me a few minutes after noon, in the middle of being rushed out of wardrobe into his third photo shoot of the day, "when you're doing it, you get an awful lot of attention." He sounds a little surprised at that fact.
A running list of Peter Rosenberg's opinions, 10 a.m.-12:30 p.m.: Vinyl (too expensive, it sucks labels don't send out promo vinyl anymore). 'Hndrxx' vs. 'Future' (the former was "the soft album"—never really listened to it). T.I. and Rihanna's "Live Your Life" (hates it). Wrestlemania afterparty (not as lit now as it was in the past). 'MBDTF' (top 10 all time rap album). Kanye's 'Runaway' movie (not as good as the album, but what can be?) 'The Life of Pablo' (loves everything except the "bleaching asshole" line). 2Pac (most culturally important rapper ever, but not in his top 10 MCs). Favorite NYC rap venues (SOBs, PlayStation Theater, Irving Plaza).
After three photo shoots spread over two locations, and a video interview with Pigeons & Planes in between, it's 12:30. For most people that'd mean lunchtime, but for Rosenberg and the hungry reporter he has in tow, it's just time for some meetings. First, there's a talent gathering where names for potential guests are thrown out, with no ask too big. Rosenberg, ever the politicker, offers to take the bookers out to a "majeur" (one of his catchphrases) dinner once they land their first guest. While he takes pains to be upbeat in front of the staff, he mentions to me an aside that "this guest talk is stressful." Then there's a social strategy meeting.
Show stuff finished, we head a few blocks away to Peter's storage space to get some set decorations and then back to his Upper West Side apartment. It's there that I meet his wife Alexa Datt, a sports journalist who was just hired as a studio host on the MLB Network. And, of course, I meet Peter and Alexa's dog, Bear, who Alexa is just about to go and walk. Bear is the near-constant focus of Peter's Instagram stories. Upon seeing me, Alexa says of her husband, "I'm his number one fan, but Bear has the number one place in his heart," in a way that lets me know it's not the first time she's had to use that line.
Brief pit stop complete, we walk a few blocks to ESPN Radio. Just before we arrive, Peter gets a text. The sender? Sean Combs. It's a short video monologue promoting Open Late, with Diddy giving a long, thoughtful, incredibly complimentary take on Peter and how good the new show will be. Rosenberg is ecstatic. He notes that Diddy, ever the perfectionist, took a while to deliver the drop because he wanted to see what DJ Khaled did first.
"As much as I want my own show, when you're doing it, you get an awful lot of attention."
Peter has been on The Michael Kay Show for a couple of years now, alongside Kay and Don La Greca. He's the comic third mic, adding funny observations, contrary takes, and and occasionally challenging his co-hosts on social or political issues. But because sports talk is a new milieu for him, and because of his supporting role, it's also a place where the radio veteran can practice and learn new tricks.
"We interviewed Vin Scully yesterday, one of the greatest announcers ever," Peter tells me. "He said something that, at first I thought he was saying just to be cute, but I realized he wasn't. He was talking about how his," [here, Peter lapses into a Scully impression], "'Greatest ability is to sit there and shut up.'"
Brief impression session over, Rosenberg continues. "Everyone's like, oh, ha ha ha, you're such a great talker. Then I kept listening to him, and I listened to our callers call up and say, 'I hang on every word that he says.' And I was like, oh, he's really serious. It is his ability to shut up. That is what makes him good. That's something I'm really working on right now. I have not mastered that yet. With the Kay show, that's a good place to learn it."
The day I'm there to observe, Kay, who is also the Yankees play-by-play guy, is in Toronto for opening day and thus relegated to a brief call-in at the top of the program. In the control room, four TVs show three ballgames and a tennis match. The hosts seem to be watching them too, occasionally stopping their conversation to call a play or two of the Mets game.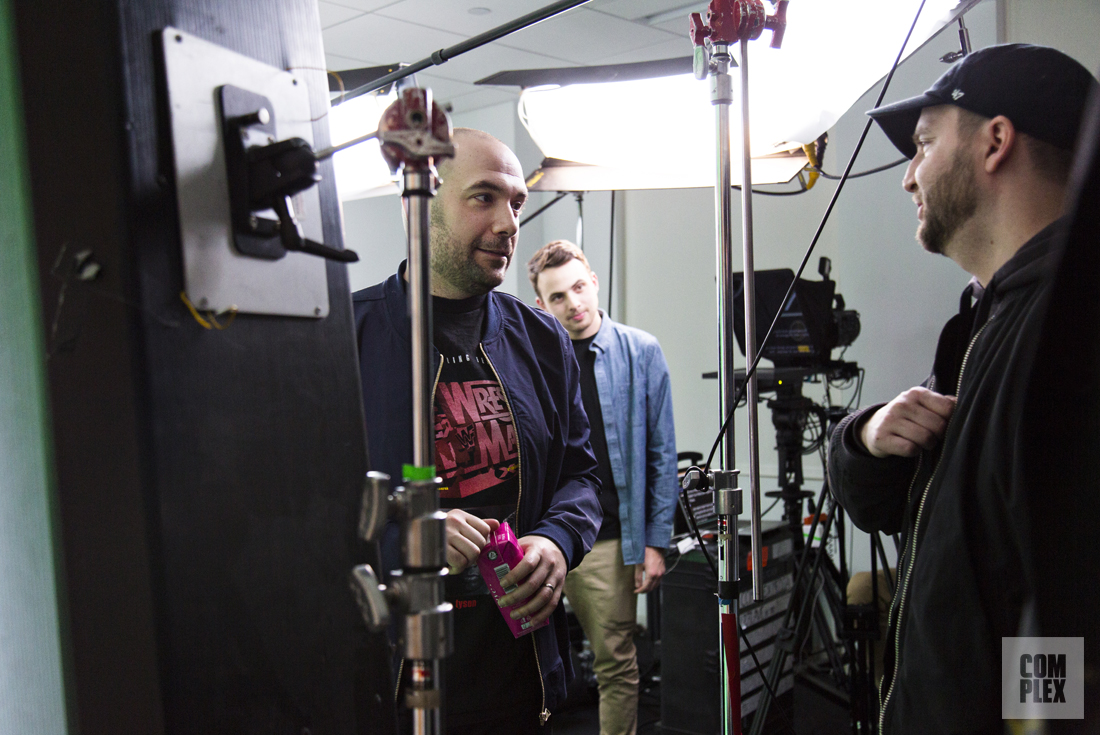 A running list of Peter Rosenberg's opinions, 3-5:30 p.m.: The Mets pitching (it's okay that it isn't great, because they're hitting well). Who's the Mets ace pitcher (deGrom). Trevor Jones' similarity to Metallica's James Hetfield (looks just like him). NFL fumbles in the end zone (random that it makes possession change hands, but adds an element of excitement). Odell Beckham, Jr. (best Giants player—scores when it matters. Also, "not a bad guy").
As someone who stopped paying attention to sports somewhere around the time Nolan Ryan pitched his last no-hitter, much of the talk on the show is lost on me. But I do notice when former Giant David Diehl calls in to offer a full-throated defense of Odell Beckham, Jr.—at one point getting so wound up that he talks for six full minutes uninterrupted—and lets a "shit" fly right in the middle of the call. Head producer Andrew Gundling manages to grab it before it makes it to air, but both he and associate producer RJ Santillo are shocked. Diehl is, after all, no stranger to radio—however, his frequent appearances are usually on satellite radio, where there are far fewer restrictions on language.
Less than two hours into the four hour program, Peter notes on the air that he didn't get his customary daily nap, and becomes quiet for long minutes when Mike Greenberg calls in to promote his upcoming talk show. Not long afterwards, Peter comes out for a break and tells me he's hit a wall. 
With an hour left of the show, Peter says, "Watch this." And all of a sudden, he's alive again, clowning his way energetically through commercial reads. The second he finishes, he yawns.
The last few minutes of the show, he's punchy. "You deserve a raise for still being here," he cracks to me, right before making an NWA joke on the air. Finally, La Greca signs off with "Peter, get some sleep," and the show is over. On the way out, Peter asks, "My fatigue wasn't noticeable to the listener, was it?" No, La Greca assures him. It wasn't.
A running list of Peter Rosenberg's opinions, 5:30-7:30 p.m.: Mets wild card chances (good if their pitching keeps up). Tiger Woods (if he stays healthy, he could have a several-year run at the top tier of the game again). Steve Nash (an "unstoppable" shooter, not overrated by the media). Grant Hill (best player ever to recover from serious early career injury). Steve Nash being listed as 6'3" (a lie. He's 6'1" at most).
Peter and I walk the handful of blocks back to his apartment, talking the whole way about politics and family. Even then, at the end of a long day of near non-stop talking and decision making, he's still full of opinions about the relative merits of L.A. and New York. He goes to take Bear for a walk, and we part ways. Having not eaten anything other than a bag of potato chips since 6 a.m., I make a beeline for Chipotle and then head home, where I collapse not long after midnight.
By the time I wake up the next morning at a little after 10:30 a.m., barely recovered from the grueling extra-long workday prior, Peter's first job of the day is already over and he's back at the Complex office, in the middle of going through the same cycle again. And he wouldn't have it any other way.