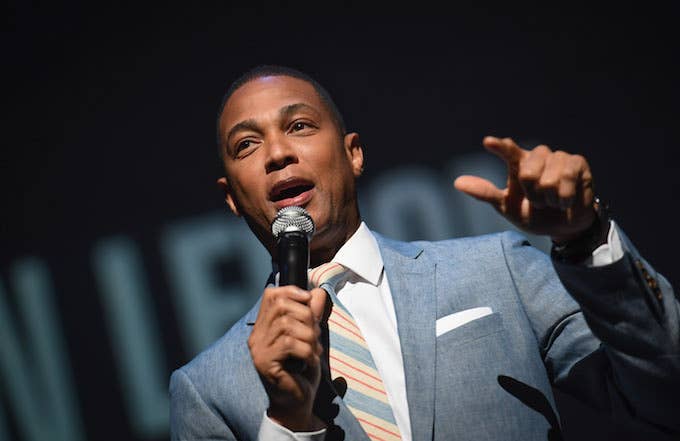 CNN viewers are noticing some not-so-subtle changes in the way on-air personality Don Lemon has covered Donald Trump's presidency. Aside from growing out an afro and ringing in 2018 on-air in the most lit fashion, Lemon has sometimes cast aside the construct of media objectivity in favor of spilling the proverbial tea.
"This is CNN Tonight, I'm Don Lemon. The president of the United States is racist," Lemon said during his show's opening last Thursday. "A lot of us already knew that."
While Lemon pointing out the obvious doesn't exactly put him in Huey P. Newton territory, it seems to have given viewers a decidedly different look from the man who was sonned on live television by Talib Kweli and named Complex's "Fuccboi of 2014." Twitter users have been paying attention, and over the last few days, the "Don Lemon 2012 vs. Don Lemon 2018" memes have reached the type of peak hilarity reserved for Terrence Howard.
Lemon hasn't officially dropped the "Don Lemon 2012 vs. Don Lemon" phrase in a tweet yet, but referencing the 2000 comedy The Ladies Man after a viewer pointed out his new look was a start. 
In the midst of all the praise for the woke version of Don Lemon, multiple users weren't as quick to invite the longtime CNN anchor back from the sunken place.
I bet Afro Don Lemon would be more willing to hear me out lol
As executive director of the cookout committee I remind you that after George Zimmerman was acquitted for killing Trayvon, Don Lemon said we could end racism if black women stopped having babies, black men pulled up our pants and we all stopped littering and saying the n-word
As with pretty much anything, the matter of Don Lemon atoning for taking an L on camera too many times to count is a matter of opinion. In the meantime, Twitter is providing more than enough memes if laughter is your medicine of choice to deal with the Trump administration.