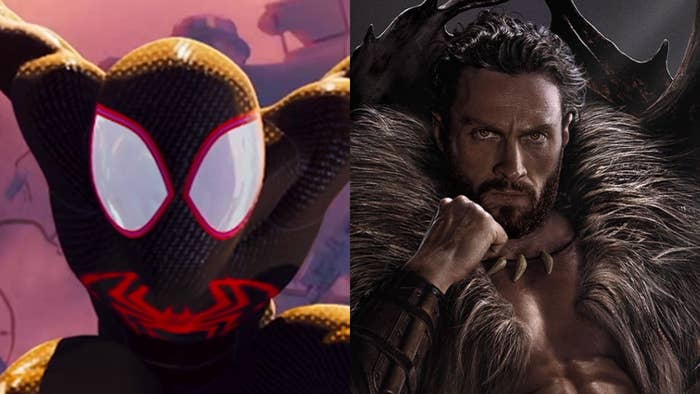 Spider-Man: Beyond The Spider-Verse, Kraven The Hunter, and more films distributed by Sony Pictures have been delayed due to the 2023 SAG-AFTRA strike.
On Friday, the company made changes to its release schedule that affected several movies that were supposed to drop soon. One of the biggest movies to suffer from the strike is the forthcoming Spider-Man: Beyond The Spider-Verse, which was removed entirely from the release schedule since actors can't do voiceovers for the animated film.
The film was supposed to release in March 2024, but due to writers and producers still figuring out the plot and the strike further delaying that process, Sony didn't want to move forward without all hands on deck.
Kraven the Hunter was slated to drop on October 6, 2023, but was moved to August 30, 2024, because Sony wanted to release the action film with a full marketing and publicity plan centered on lead actor Aaron Taylor-Johnson.
Sony also changed the August release date of its big racing film Gran Turismo by a week as the company is rushing to figure out a plan to market the movie without stars such as Orlando Bloom and David Harbour helping promote it.
On a positive note, Sony announced dates for the upcoming movies Bad Boys 4 and Venom 3. The Will Smith and Martin Lawrence buddy cop film will hit theaters on June 14, 2024, and Tom Hardy will be reprising his role as the alien symbiote anti-hero when the third Venom film arrives on July 12, 2024.
Sony Pictures is the first major Hollywood studio to make such significant changes since the strike commenced on July 14. Sony's announcement all but confirms one of the film industry's worst fears: the release calendar for this year and next will continue to see more issues.
Other major studios are holding it and waiting to see what will happen with their big fall and winter releases, but anything can happen since Sony took the first step in switching up its calendar. Because of that, many believe the strike won't find an end soon.