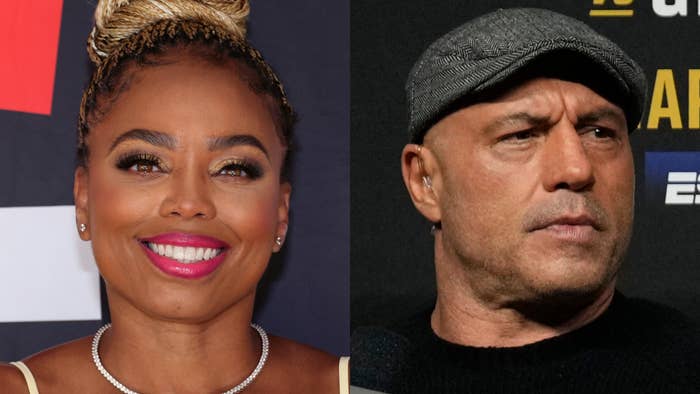 Jemele Hill has cleared the air over her alleged exit from Spotify, which reportedly came after she asked for the same amount of money that Joe Rogan is making.
Bloomberg reported that Hill was looking for a new home for her Jemele Hill is Unbothered podcast, which led to unearthed comments she made in 2019 about wishing the streaming platform gave Black podcasters the same money Joe Rogan got in his $200 million deal.
However, all the chatter is apparently just speculation based on a tweet Hill posted over the weekend.
"People: A lot of what's been reported just isn't true. My podcast hasn't been cancelled. I never asked Spotify for $100M. This shit is truly comical," she tweeted. "Next week's guest is: Sabrina Elba. In the coming weeks: Blair Underwood, Kasi Lemmons, JR Smith, Kenny Latimore and more. When I have something to say, I'll say it."
Hill has been hosting her podcast on Spotify since 2019, when she told the New York Times she would like to see Spotify "hand $100 million to somebody who is Black."
Outkick, a conservative outlet, took that information and released a tweet implying Hill got fired after "daring" Spotify to pay black hosts $100 million.
"Jemele Hill is out at Spotify after daring the company to pay her or another black host $100 million to match Joe Rogan. Spotify said no," read the tweet.
Hill clearly took issue with the tweet.
"You should probably comprehend better, or maybe read the original piece — which was about me wanting to see Spotify make that investment in prominent Black podcasters," she tweeted in response. "I never told Spotify or the NYT, that I deserved $100M. My deal at Spotify is pretty fair. This was about investment and growth."