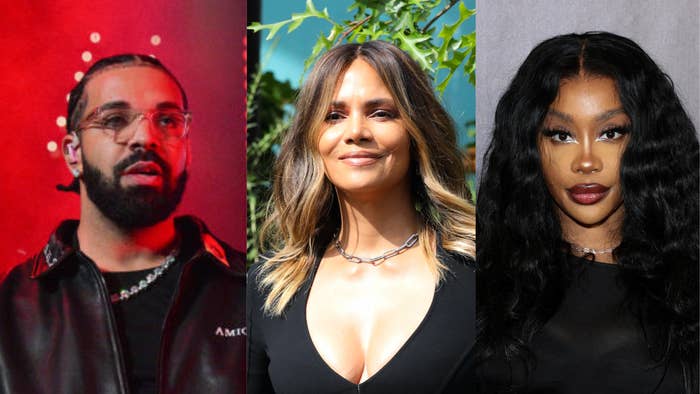 UPDATED 9/17/23, 5:49 p.m. ET: Halle Berry has revealed that Drake asked for permission to use the photo of her getting slimed at the Kids Choice Awards, and even though she said no, he still went ahead and used it.
In a new Instagram comment under the post about being the "bigger" person, the 57-year-old actress addressed a person who said the picture was owned by Getty and that Drake probably paid for it. According to Berry, he should've never asked if he was going to do whatever he wanted anyway.
"Cuz he asked me and I said NO that's why," Berry wrote on Saturday. "Why ask if you intend to do what you want to do! That was the f--- you to me. Not cool. You get it?"
In another comment, Berry added, "He did have his people call my people and I said NO I didn't like that image of slime all over my face in association with his song. And he chose to do it anyway! You see…that is the disrespect. Not cool!"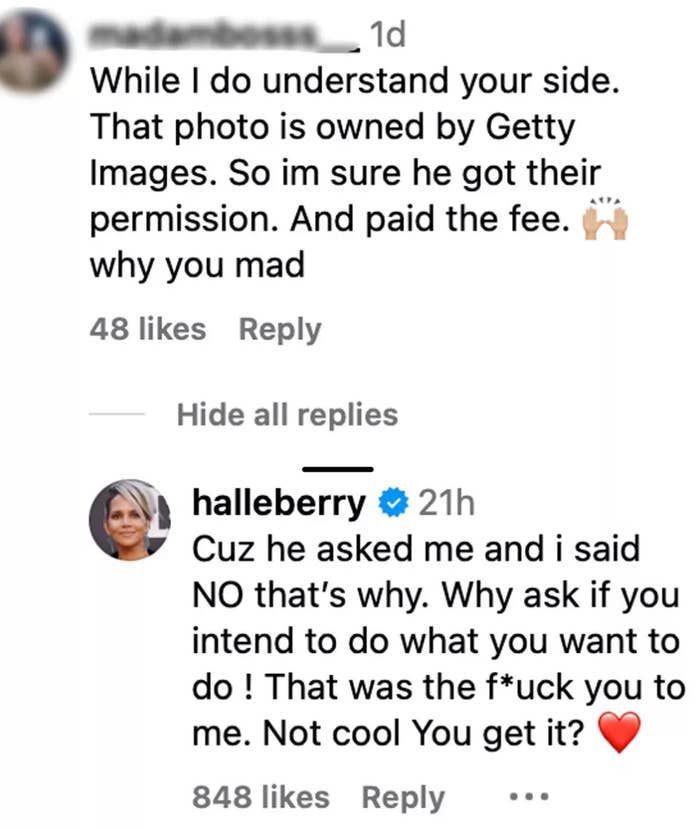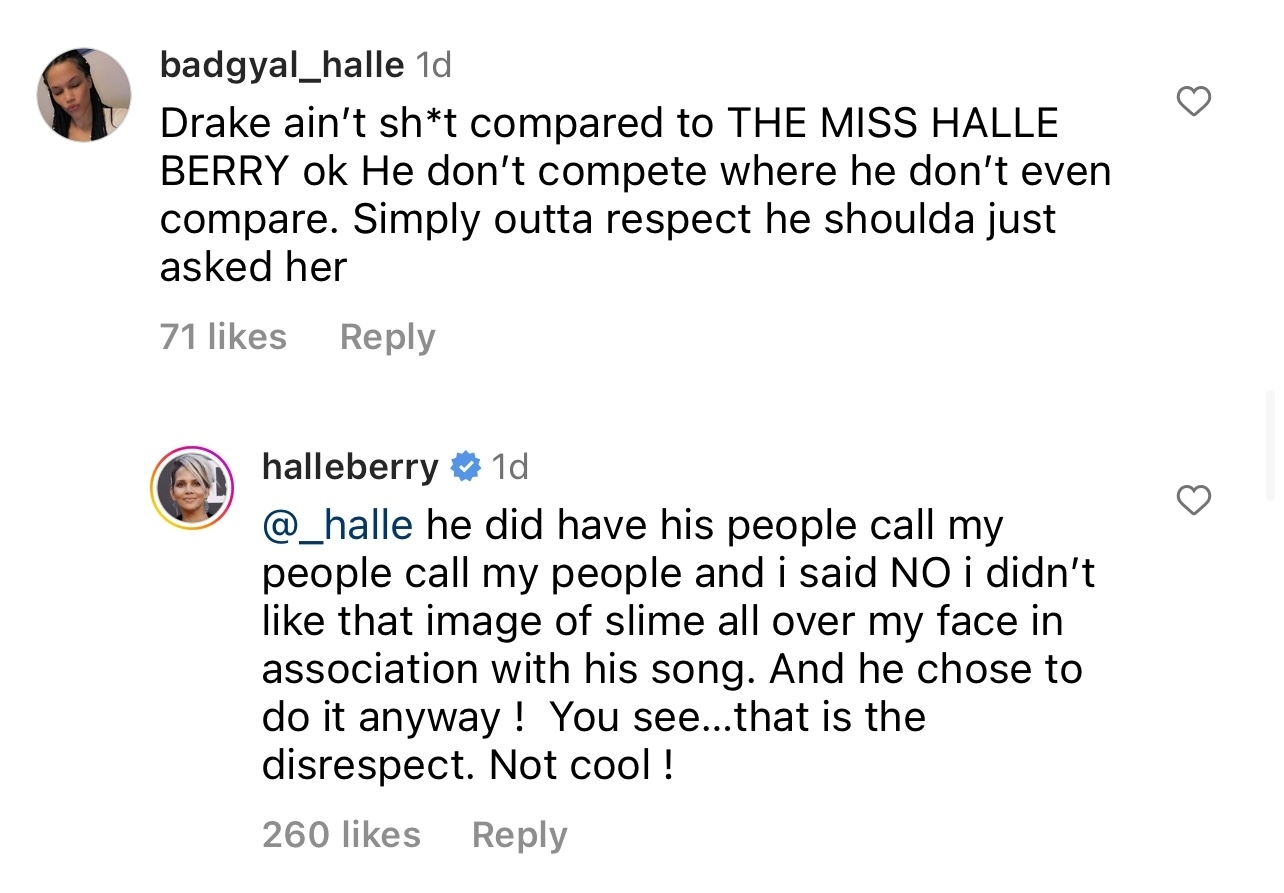 See the original story below.
Halle Berry has made it clear she's not happy with the initial cover art for Drake and SZA's new single "Slime You Out," which used a picture of the actress getting slimed at the 2012 Nickelodeon Kids Choice Awards.
On Friday, the actress took to her Instagram account with a post of a quote that read, "Sometimes you have to be the bigger guy...even if you're a woman!" A person took the post and assumed it was about her picture being used for Drake and SZA's cover art, and they wasted no time asking questions.
"@halleyberry, what are your thoughts of drake using that picture of you for his single?," wrote the person. Halle Berry wrote back to the person saying, "[Drake] didn't get my permission. That's not cool I thought better of him!"
Berry continued, "Hence my post today. When people you admire disappoint you you have to be the bigger person and move on!"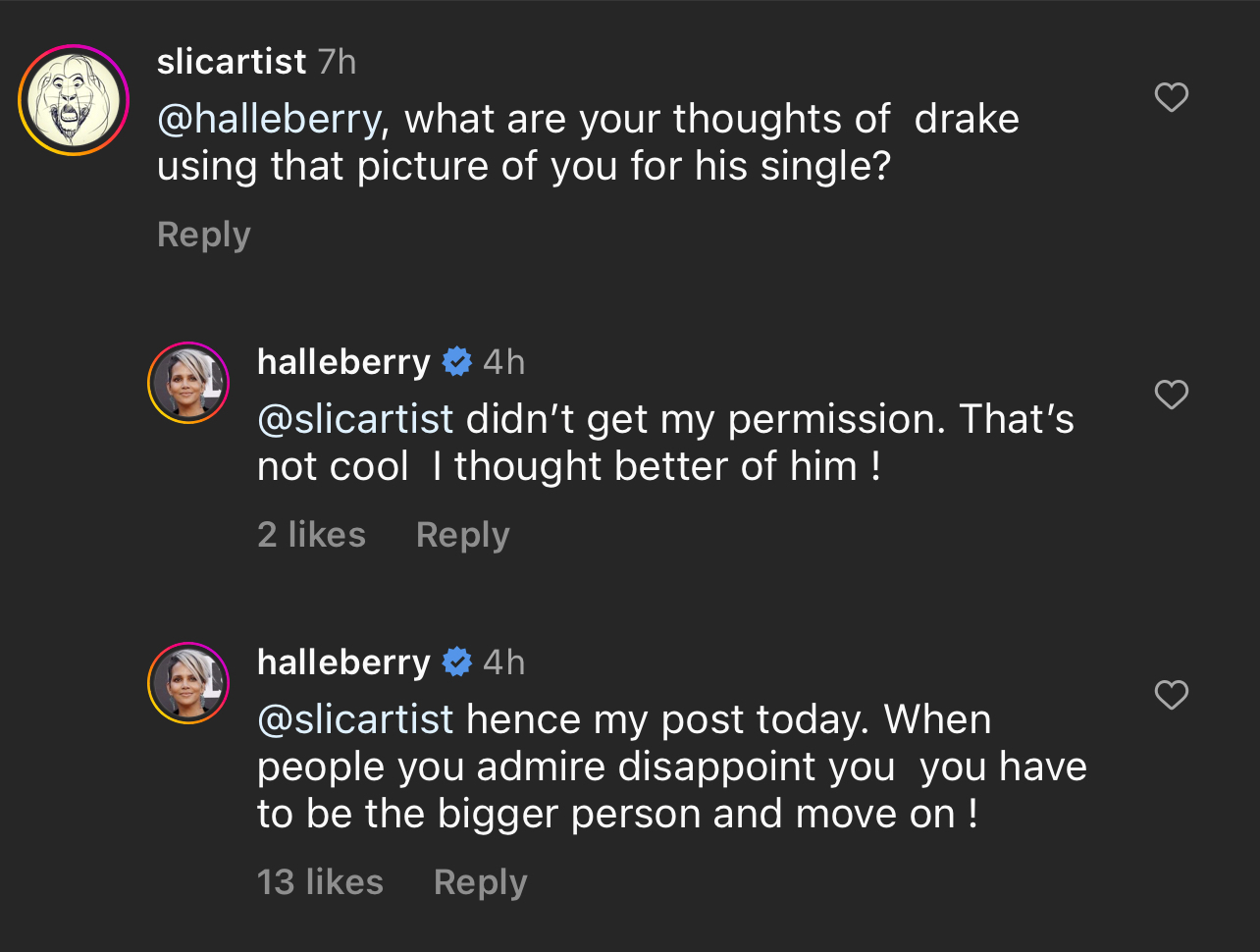 Twitter noted that Berry doesn't own the rights for usage. Photographer Christopher Polk, who took the photo for Getty Images, actually does.
Earlier this week, Drake and SZA posted the initial cover art featuring Berry, which showed her drenched in green slime. The "Slime You Out" duo didn't use Berry's picture as the cover art on streaming platforms as they opted for Adonis Graham's viral picture of a dog.
Before the song dropped today, he gave fans in Dallas an exclusive preview after his show. He's currently on his It's All a Blur Tour with 21 Savage.