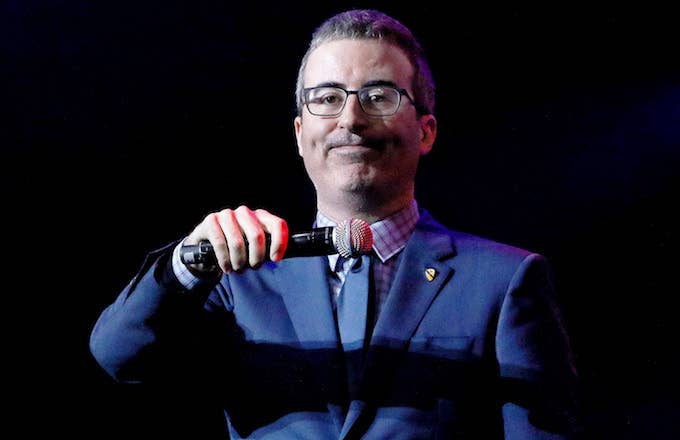 John Oliver said "goodbye forever" last night, jokingly packing up his things and quitting Last Week Tonight after Russell Crowe used funds from his divorce auction to erect The John Oliver Koala Chlamydia Ward in Australia. Of course, Oliver's adamant resignation was very much a joke, as the man's contract doesn't end until 2020 and a new episode is scheduled for Sunday. The bit, however, left Twitter confused and nervous that Oliver was actually wrapping it up.
Before we get to the now-infamous Koala Chlamydia Ward, it's worth noting how hardcore Oliver's segment on Rudy Giuliani and Donald Trump was. According to The Daily Beast, the man criticized both of their moral compasses in terms of publicly leaving their wives, using 9/11 as a political selling point, and having a very strange relationship with sex—and their female relatives.
"Think about it: They're basically two versions of the same person," said Oliver. "They're both New Yorkers coasting on their reputations, they've both had three marriages, neither of them can shut up in front of a camera, and, perhaps most importantly, they both want to fuck Ivanka—which is weird for Trump because Ivanka is in his family, and is weird for Giuliani because she isn't." 
Let's leave that mic firmly dropped and get into the bizarre saga of Russell Crowe, Koalas, Chlamydia and Oliver's faux resignation, shall we? 
According to The Huffington Post, Oliver contributed to Crowe's divorce auction last month by buying his Cinderella Man jock strap and donating it to one of the last Blockbuster video stores in the country. The Hollywood star was delighted, and even teased how he'd be reciprocating this act of kindness via Twitter last month.
At the time, we were still blissfully unaware of Australia's Koala Chlamydia problem, but thankfully, Oliver's kindness, Crowe's gesture of appreciation, and a bizarre video involving the Irwin family cleared everything up for us.
"That may honestly be the greatest thing I've ever seen," said Oliver during last night's episode.
As you can see, the koala population in a land down under has a problem down under—specifically, Chlamydia. Oliver was baffled, first and foremost, that this was even a real-life issue, but also that he was now immortalized by The John Oliver Koala Chlamydia Ward. Naturally, there was nothing left to do but call it a day—forever.
Before you start freaking out—Oliver was clearly joking. Yes, it would be overwhelmingly strange and hard to process to have this happen to you, but it's no reason to quit a highly successful television show. Not everyone was as rational and understanding, though, as this end segment from last night's show left Twitter nervous and confused that this might actually be legit. Has reality become too much for Oliver? Was he really quitting? Apparently, quite a large portion of viewers actually thought so.
Before you enjoy the following reactions, let's just take a moment to appreciate the important things first—The John Oliver Koala Chlamydia Ward exists. It is real. Thank you. Have a good day.