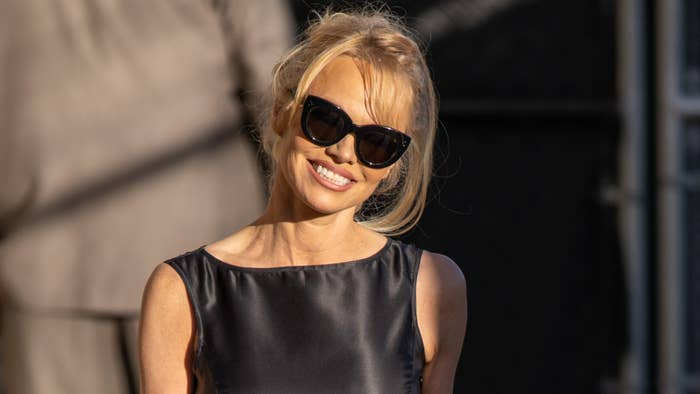 Pamela Anderson has expressed regret over comments she made about the #MeToo movement in 2017, and noted that her own personal issues got in the way.
Anderson sat for a sprawling interview with Ronan Farrow forInterview Magazine to talk about her new memoir Love, Pamela, and in turn took a moment to reminisce on comments she made to Megyn Kelly on the Today Show in 2017, where she spoke about her own experience with sexual abuse as a child.
"I learned to never put myself in those situations again," Anderson said at the time. "And when I came to Hollywood there were a lot of offers to do private auditions and things that made no sense. Just common sense don't go into a hotel room alone. If someone answers the door in a bathrobe, leave. Things that are common sense, but I know Hollywood is very seductive and people want to be famous, and sometimes you think you're going to be safe with an adult in the room."
She continued by describing her own encounter with Harvey Weinstein, who is currently serving a 23-year prison sentence in New York after he was convicted of rape and sexual assault, and said it was "common knowledge" to avoid interacting with certain producers in private.
"You know what you're getting into if you go to a hotel room alone," Anderson added. "Send somebody with them...I just think it's easy to remedy that. That's not a good excuse."

Anderson admitted to Farrow in his piece published on Wednesday that those comments were insensitive and that they stemmed from a specific "kind of feminism" that she was raised on.
"I can even take it a step further. My mother would tell me – and I think this is the kind of feminism I grew up with – 'it takes two to tango,'" Anderson said. "'If someone answers the door in a hotel robe and you're going for an interview, don't go in. But if you do go in, get the job.' That's a horrible thing to say but that's how I was. I skated on the edges of destruction, I just had this sense of value and self-worth. But I think a lot of people don't have that or they weren't taught that. Thank God for the #MeToo movement because things have changed and people are much more careful and respectful."
Elsewhere, she said despite multiple experiences with sexual abuse as a child, her mom often hushed her and told her to put it aside and move on.
"I remember lining up in the bank and saying, 'Look mom, that's the guy that raped me.' And she went, 'Shh.' It was like, 'Don't say anything, don't embarrass me.' I think a lot of our troubles we're having in society are about unheard trauma. We need to tell our stories. And I hope that's encouraging. Even my mom, when she read it, she started acting out, just jabs and cruel remarks. It was coming out in all sorts of different ways. Right now, talking to you, I'm vibrating. It's an energetic, positive thing, but it's not easy. You have to be brave to fall in love, you have to be brave to speak your truth. I think everyone needs to try to live that way."