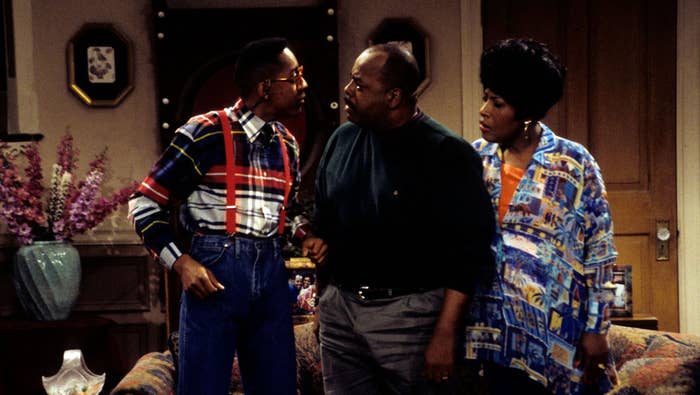 While the Winslows were one of the tightest sitcom families in television history, JoMarie Payton, who played the matriarchal Harriette Winslow on Family Matters, recently said the cast dealt with their fair share of turmoil behind the scenes.
During an interview with Entertainment Tonight, Payton recalled one moment in particular where Jaleel White, who played Steve Urkel, tried to actually fight her off-camera.
"There was one time he actually wanted to physically fight me," Payton said. She recalled White had some strong opinions about the show's Season 9 episode "Original Gangsta Dawg," where White also played Steve's cousin, OGD. 
"[There was a scene where] I said we can't do that, standards and practices will not let that pass, it's not gonna happen. He wanted to do it anyway… He was so mad, he started kicking and screaming and stuff," Payton explained.
While White seemed fully intent on getting physical, Darius McCrary, who played Eddie Winslow, was able to diffuse the situation.
"He said something about, 'She must want to melee,'" Payton added. "I said, 'What's a melee?' He said, 'a fight.' I turned around – if he wanna fight, I would," she continued. "Darius [McCrary] grabbed me. I was gonna whip his behind."
Family Matters ran from 1989 to 1997 and was one of the longest-running U.S. sitcoms with a predominantly Black cast. Payton told Entertainment Tonight that for the most part, she really loved the cast and crew.
Last year, White told TVOne's Uncensored that his adult castmates were initially reluctant to welcome him into the family since Family Matters served as their big break as well.
"I didn't see how I was stepping on anybody's toes, [how] I was taking anybody's shine. It's very important that I say this: I was not very well-welcomed to the cast at all, okay?" White said. "And I don't need to rehash that with the adults over and over again. They know what it is."