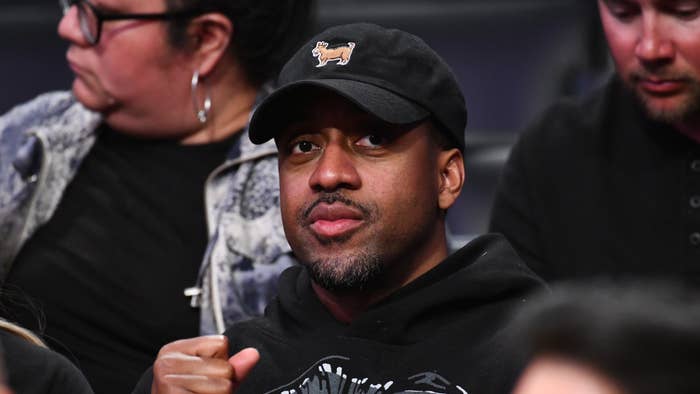 Jaleel White became the unexpected star of the hit '90s sitcom Family Matters. Yet during his latest appearance on TVOne's Uncensored, White revealed the cast was not proud of his newfound stardom. 
White explained that Family Matters had "three adults"—Jo Marie Payton, Reginald VelJohnson, and Telma Hopkins—who saw the show as their big break. So they were evidently not too keen on the idea of White's Steve Urkel taking center stage.
"I didn't see how I was stepping on anybody's toes, [how] I was taking anybody's shine. It's very important that I say this: I was not very well-welcomed to the cast at all, okay?" he said. "And I don't need to rehash that with the adults over and over again. They know what it is."
He noted that the children on the show—Shanygne Williams (Laura Winslow), Darius McCrary (Eddie Winslow), and Jaimee Foxworth (Judy Winslow)—also took exception to him, but only because of the information they were receiving from the adults. An example of this to White was when he was chastised by Payton and VelJohnson for wearing a dress when playing Steve's cousin Myrtle Urkel.
White says Payton and VelJohnson were "sensitive to putting Black men in dresses" and projected that idea on him during the shoot. 
"And they heaped that on me, and they let me know I was not doing our race a service by putting on that yellow dress," he said. "But everybody has a default. Do you crumble? Do you wilt under pressure? Do you rise? Do you surprise yourself?" he said. "My default tends to be to take it up a notch. That evening I felt like a girl…playing Myrtle Urkel. But I cried like a baby at the end of that take. I just broke." 
After seeing this take a toll on his son emotionally, Jaleel White's father made it clear adult coworkers should not attack a child for doing something fun. 
Along with the friction on the Family Matters set, White reflected on his relationship with former mentor Bill Cosby and his fall from grace and imprisonment.
"I actually had a bit of a falling out with Mr. Cosby and I kept that to myself," White said. "I come from a generation where you respect your elders no matter what, and it's a tough thing to process in a generation that says it's all about what's young, it's all about what's relevant, it's all about what's hip. So, knocking off these monuments who are still human beings, it's tough."
He added, "A revered man did terrible things and he's paying the price. I think that's where we leave it. A revered man did a terrible thing and he is paying the appropriate price."