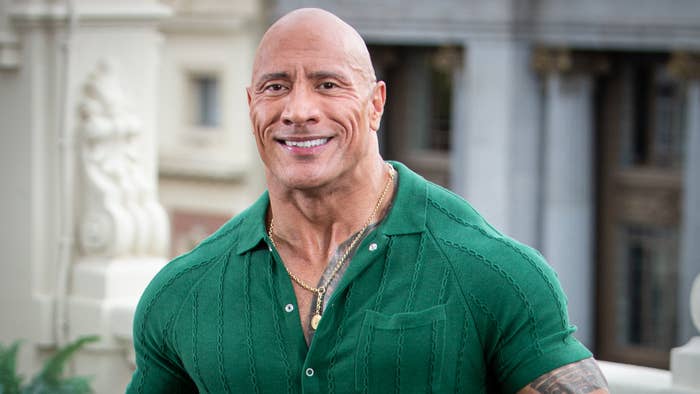 Dwayne "The Rock" Johnson corrected some past misdeeds when he returned to a local 7-Eleven in his Hawaii hometown to "right the wrong" of stealing candy as a teenager.
The Black Adam star took to Instagram to explain that at 14-years-old he would steal a Snickers bar from the pictured 7-11 "every day" while en route to the gym. The candy bar served as his pre-workout snack.
"I finally exorcised this damn chocolate demon that's been gnawing at me for decades," the Rock wrote. "We were evicted from Hawaii in '87 and after all these years – I finally got back home to right this wrong."
Johnson shouted out the woman who worked at the store at the time, saying she "always just turned her head and never busted me."
"I've exercised a few big demons over the years (I still have a few left;) so I know this one seems VERY SILLY but every time I come back home to Hawaii and drive by 7-11...I always knew I needed to go in and clean out every Snickers bar they had – the right way," he added. 

In a video, The Rock is also seen buying people goods who come into the store, racking up a total of $298. He then told the clerk, BK, that he'd leave the Snickers, all 40 of them, on the table for anyone who looks like they'd be stealing one.
"We can't change the past and some of the dumb stuff we may have done, but every once in a while we can add a little redeeming grace note to that situation,and maybe put a big smile on some strangers' faces," he concluded.
Johnson has become a beloved celebrity due to heartwarming gestures like these, but he recently told CNN's Jake Tapper that a run for president is currently off the table despite people seeming to really want him in office.
"I'm just really grounded and humbled by the interest on both sides. But the No.1 job, and my No. 1 title, that I love right now is daddy," he told CNN. "I have seriously considered it. You have to. When you start looking at some of these polls, and these numbers creep up into the 46%, 50% of the country would vote for me should I run, and I have been – I've been really moved by that."