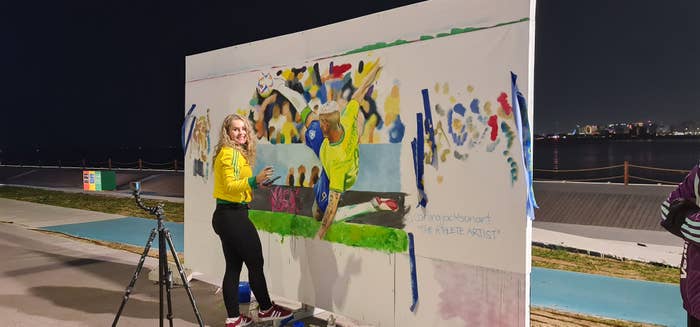 Vancouver artist Carling Jackson made history when she became the first-ever sports artist to paint at the 2022 FIFA World Cup, creating murals at both the semi-finals and the finals.
At the Morocco-France semi-final, Jackson painted Achraf Hakimi and Kylian Mbappé while gracing the Argentina-Croatia game with a mural portraying Argentine soccer legends Lionel Messi and Diego Maradona.
At the finals, Jackson painted Mbappé and Messi with the official mascot La'eeb holding up a star, representing either team's third World Cup victory that would eventually wind up on the winning team's jersey. 
Following Argentina's victory, Jackson drew the jersey emblem, adding a third star to represent their victory.
"This has meant more to me than anything in the world, especially as a woman as my field is totally dominated by male artists," Jackson told Complex Canada. 
"I played soccer at the highest level my entire life. Team BC and D1 scholarship. I was invited by the supreme committee and FIFA to paint at the semi and final of the World Cup. This has never been done in the history of the World Cup. They left the creative ideas up to me. I also painted Richarlison's famous goal on the corniche in Doha."