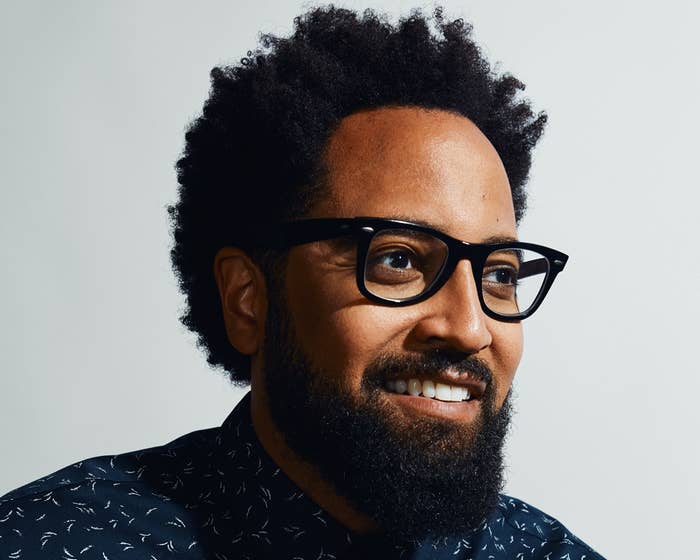 For the last few years, it's been hard to define what qualifies as a "comedy" series on television, primarily because while shows like Atlanta or Better Things can be hilarious, they also tend to deal with weighty, dramatic scenes that blur the lines of what "sitcom" can mean. The Atlanta-born, Emmy-nominated multi-hyphenate Diallo Riddle, who you may have seen on NBC's Marlon or know of as a writer on Late Night with Jimmy Fallon (where he wrote classics like "Slow Jam The News with Barack Obama") is helping bring straightforward comedy, particularly black comedy, back to the masses with two new series, which debuted a week apart in July: South Side, the acclaimed Chicago-based series for Comedy Central, and Sherman's Showcase, which just made its debut on IFC earlier this week.
Riddle worked on both series with frequent collaborator and longtime friend Bashir Salahuddin, and their partnership is inspiring; they not only worked on getting both of these series made, but they made sure to include a lot of their inner circles on the shows (a lot of the Chicago-born Salahuddin's family works on South Side, while Riddle shared that his family is a big part of Sherman's Showcase). Their years of hard work has truly paid off, and based on the praise for both series, this should only be the beginning.
Complex recently got to chat with Riddle, where we talked making Ne-Yo sing about time travel, his favorite moments from South Side, and his hopes for a Sherman's Showcase Vegas show.
Congratulations are in order. When Comedy Central first sent out like screeners for South Side to the press, I devoured the first couple episodes immediately and was happy as hell to get the rest of them. I know you and Bashir have been working together for a while in a number of different instances, but can you talk about the beginnings of South Side and how it went from an idea to what it is now?
When we left Fallon, we left it to develop a show about my hometown of Atlanta at HBO. Atlanta didn't have a show and I wanted it to have a show about the time that Donald Glover's show came out. There was an executive turnover at HBO, and so when we found ourselves without a show at all. One day, we spoke to a friend of Bashir's who had actually worked at a Rent-a-Center in Chicago on the South Side. We heard these stories about his buddy [that were] so distinctly Chicago. We were like, you know what, maybe we move away from Atlanta and do the Chicago show. And so we started working with just a group of amazing writers, all of whom—except for me—are from Chicago. And then at some point, we decided, look, when we cast this thing, we don't want to go out and get people who you've seen on other shows. We want to get people from the hood who you haven't seen anywhere. That's one of the exciting things about South Side is because you haven't seen these actors before and for some of them it's their very first gig. You really get the sense that you're watching something authentic from the South Side.
The thing I like about South Side is that you can tell it's the progression from what Chappelle was doing with his show and what Chris Rock was doing before that, where it's grounded in like black humor. It's clear that you guys know your audience, but it's not just like willing to stay surface, I guess is the best way to describe it.
I appreciate that. 
It's a show that can get real quirky but can also have Turner go up to Goodnight and be like, "Nigga, did you just taste cotton?" Stuff like that that you're not going to get on other shows. That's the kind of shit that cracks me up. You're able to just let the freak flag fly.
I love that and I use that expression all the time because I do believe that like to a great degree, they really let the freak flag fly. And I'll always think of it.
What's the feedback you're getting from the public?
Brother, universally positive. I'm a weird, sadistic person. Like I definitely look out for the negative comments. I just can't help myself, but I have to know there's some negativity out there to believe that positivity exists. It's really sick. I will say though that nothing in the comments makes me happier than when someone just [types in] the joke. Like the way you did with Turner's line. When they put a joke in the comment and then just LOL or an emoticon or something. To me, that's sort of the modern 2019 day version of why we do what we do.
I love that you brought up Turner line; that's actually one of my favorite jokes that I've never heard anybody mention before. So, you're the first person outside of our circle to even bring up that joke...it's one of my favorite jokes. I [also] love the fact that the line about "no more khakis on this block" has taken on a life of its own already.
What are some of your favorite moments or episodes from this season?
I liked them all. I like them all for different reasons. It's hard for me to say which ones are my favorite. The one where Bluto goes to trial over parking tickets, that's one of my favorites. I love the one where the black girl goes missing and everybody's trying to find her.
[My] ultimate [favorite] episode is the golf tournament because it's pretty much the only time this season that you get to see me and Bashir in a scene together. While we were shooting South Side, I was still under contract with Marlon so I could only appear in two episodes other than the pilot. We tried to make those two episodes count; it's sort of something that I think we'll be able to get into more in season two. That scene is particularly special because, to me, in a weird way it almost felt like a victory lap. It felt like, 'hey we finally did this, we finally did a show,' you know? We left Fallon in 2012 and we didn't shoot that scene until 2018. You've got to make it count.
There's something that I feel Bashir gives you as an actor that makes you really...I don't even want to say up your game? It's just... It's a different energy.
I guess that's a good transition into Sherman's Showcase. I had no idea that this show even existed until I got hit up about it. And to see Bashir in that role of like Don Cornelius. Where did the concept to basically spoof Soul Train come from?
Well, you know, here's the deal. We know that it looks like Soul Train and then he has a 'fro so it looks a little bit like Don Cornelius, but to us that show is really just a chance for us to do all the comedy that we actually originally became friends through. We have a silly side, we love things like the Airplane! movies, loves things like Chappelle's Show and In Living Color and we had never had the chance to do anything [like that]. Just big and broad and silly because you know, once we left Fallon—and this gets a little bit into the industry—but you know when you're a black creator, sort of one of the first things that they ask you is 'oh wow, that's great. So did you live this? Is this like the story of your life?' And it's almost like they almost want you to give away like pornographic details of like your childhood and how pointy it was growing up black.
To me, this show in a weird way is more ambitious because there's never really been a show like it. And again, I know it looks like Soul Train, but really we're trying to do our own version of Airplane! and Laugh-In, using black music as this jump-off point. We wanted the original music to really shine, which is why we got John Legend on as an executive producer. It's like The Lonely Island. I want the songs to be like the kind of songs you can play in the club. You can play on radio. True. Indeed. Right now I think one of our songs from the show, "Time Loop," hasn't even debuted yet, has like 90,000 spins on Spotify and don't nobody know us. But like, people like that song. And we worked with Phonte Coleman, Phontigallo from Little Brother. We found Ne-Yo, got him to sing the hook. You know like, it's just a really a matter of like getting the best people to do like 10, 20 minutes on a show in Glendale, you know what I mean? It's a very different project.
I will tell you this, when "Time Loop" came on in the episode, I'm like, 'Who the hell is Galaxia?' And then I did the search. I'm like, wait, that's Ne-Yo. I thought it was just like a song that I'd never heard of from the mid-'80s or whatever.
So let me tell you, if you haven't noticed yet, Bashir and I are nerds. Like, we like writing lore. Every single group you see on Sherman's Showcase, trust me, we have their entire backstory figured out. We really did create a Marvel Cinematic Universe of black music for all these fake groups. So Galaxia was like Earth, Wind, and Fire in the late '70s, but this is Earth, Wind, and Fire when they're trying to like ride that wave and they saw how well Thriller did with Michael Jackson. They're like, 'Oh we can do a high concept R&B album as well.' So that's where they decided to do this ill-fated song about time travel. It gets really lost in the time travel wave and Ne-Yo was a good sport because I'll never forget when I showed him the lyrics he was like, 'You want me to sing this?' I was like, 'yeah man, space-time continuum, let's go.' It was a special day.
With all of this talk about music, I didn't realize that you were like a touring DJ.
I [had] two formative experiences in college. One was when I joined an a capella group, that's where Bashir and I met. We met singing. So music's always been at the heart of our friendship. The second thing was that I fell asleep on the job at the Harvard Law Library one day and they fired me. So I started DJing college parties and I got good at it. I always tell people that one of the reasons I'm so excited about Sherman's Showcase is that there are so many original songs. In fact, we made nothing less than 27 original songs for Season 1. One of my goals is that people are gonna like the show and then they'll come see Sherman's Showcase the live show in Vegas.
Sherman's Showcase airs Wednesday nights on IFC; South Side airs Wednesday nights on Comedy Central.