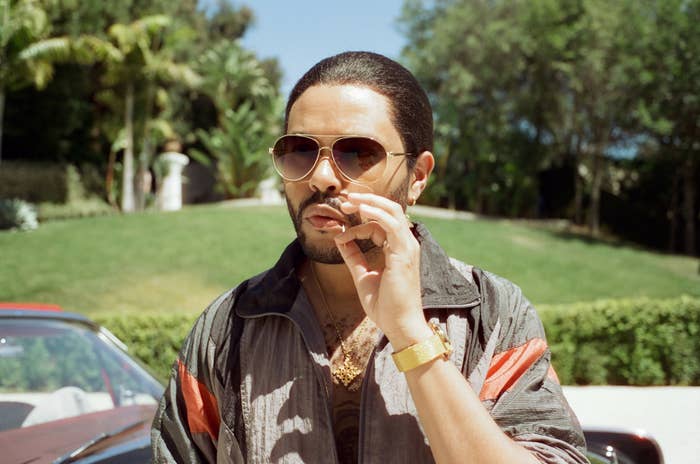 The Weeknd is in his acting era.
It's not rare for a musician to take a dip in the acting pool. Both forms of art evoke strong emotions and reactions from fans that can range from absolute elation to complete indifference.
When the singer, née Abel Tesfaye, took on the role of Tedros in HBO's The Idol, he wanted to fully commit to making him the most despicable character imaginable. Based on the viewers' reactions from the first two episodes, "Pop Tarts & Rat Tales" and "Double Fantasy," he accomplished that.
Tesfaye is known for being a perfectionist when it comes to his music. He spent over a decade delivering hit after hit and found himself at the top of the charts, on the Super Bowl stage, and garnering Grammy after Grammy. He brought that same approach when building The Idol world alongside the show's creator, Sam Levinson.
The pair have worked together for years forming these characters and building a story that shows a pop star's life behind the scenes and examines the kind of people that surround celebrities—something he knows a thing or two about from his own life. Tesfaye used his experience as a superstar to help guide his costar, Lily-Rose Depp.
She plays a singer named Jocelyn (or Joss for short), who is returning to the spotlight after her mother's death caused her to have a breakdown. She meets Tedros at the peak of her grief and in a heightened state of vulnerability, she yearns for external validation that makes her fall into his alluring trap. Tedros is a sleazy club owner who surrounds himself with enticing, young people and Joss becomes his new target.
The actor didn't want to romanticize his character or make him too appealing the way other shows and movies have done with serial killers or other despicable characters, like Joe Goldberg from You. By adding elements like a rattail, a lack of fashion sense, and a disturbing voice, Tesfaye wanted to make it clear to viewers exactly who Tedros is from the start.
"I wanted to make sure we felt so disgusted by this character. When you think about real-life scumbags, especially brainwashing cult leader types like him, there are so many directions you can go," Tesfaye tells Complex. "I went into it, like, 'Why pull the punches? Why take you down a journey and romanticize him? Let's just jump right into it. He's a fucking scumbag.'"
Tedros and Joss start a sexual relationship and their intimate scenes on the show have stirred up some controversy, but the singer has acknowledged that they were never meant to be sexy—and that he intended for people to be turned off by them. He also assures that while shooting those scenes can be "nerve-wracking" for everyone involved, the team makes everybody feel "comfortable and safe" while filming.
In a phone call with Complex, Tesfaye calls The Idol "a labor of love," and while other musicians might take acting roles casually, he'd rather fully immerse himself in the story, the development of the characters, and in their love for their co-stars. And despite any criticism, he strongly believes in the show. Tesfaye is currently on tour in Europe, and while he can't tune in to watch the show along with fans when it airs on HBO on Sundays, he is looking forward to them seeing his character unfurl as the show progresses.
Check out our full conversation with Tesfaye about The Idol below.
Congratulations on the show. I know you've been working on this for so long. Now that two episodes are out there for people to talk about, tweet about and make posts about, how does it feel to be getting this reaction in real-time?
It feels great. I think there's been so much mystery behind the show and I think finally that it's out, people get to come up with their own opinions of it, and it's doing exactly what we want it to do. It's great.
Tedros is such a complicated character and probably one of the most interesting ones I've seen in a really long time.
Thank you so much. Yeah, he's a special one. Complicated is definitely the word. And as the episodes go on, the more we start revealing more about him, but it's a slow burn with him. With this character, I wanted to make sure we felt so disgusted by this character because when you think about real-life scumbags, especially brainwashing cult leader types like him, there are so many directions you can go.
So with him, I wanted to make sure that we focused on him finding someone's vulnerability, finding what makes them tick, and then press on that, exploiting what they're missing. I feel like they filled that gap, and that's what Tedros is doing with Jocelyn. But the truth is, behind all that calculation and endless rehearsal, he's just fucking pathetic. He's small, he has no appeal whatsoever.
You previously said that you've never met anyone like him. But for me, I feel like I know people that are just like him.
I mean, I've never run into one. I've seen them for sure, we've all seen them, but I've been fortunate enough to not allow them into my life because you see the calculation. But without all that, it's just like they're fucking pathetic and they have no appeal whatsoever, yet they somehow have this hold on these people.
And then the deeper you get into the show, the more you see Tedros' methods. With someone like Tedros, it should be tough for a lot of actors wanting to play a character like that. I went into it, like, "Why pull the punches? Why take you down a journey and romanticize him? Let's just jump right into it. He's a fucking scumbag."
It's important to make that distinction.
Right away. I'm drawing it out for you, he's got a rattail, he has no fashion sense, he probably wears a lot of cologne. You know what I mean? [Laughs.] You could smell his horrible cologne through the screen, probably.
He just seems like someone that has to control the room, he has to control his environment, and those are the weakest people. We notice a trend in people being attracted to people playing serial killers and stalkers, and I tried everything in my power to make him as despicable onscreen, that can make your skin crawl. I wanted to contradict the trope of these characters needing to be charming and attractive to the audience. I think they just need to be charming to their victim, and we as the outsiders are like, "Ew, get this fucking guy. How is this happening?" And we can't help but just let it happen.
And I grabbed a lot of inspiration from...because there are a lot of iconic characters that we've grown to love throughout the years, but I remember watching it and being so disgusted by them, like Eric Roberts in Star 80 was a huge inspiration, James Woods in Casino, Harvey Keitel in Taxi Driver.
You and Sam based the show on a lot of your favorite films that you've been inspired by.
Yeah, Star 80 was a big one, and Dennis Hopper in Blue Velvet. For me personally, someone like Nick Stahl in Bully, that's probably a deep cut, but these are characters with a lot of power over the people around them. But you, as the audience watching, you're like, "How does this happen?"
What I do love about Tedros and that we reveal a little bit about, we show signs in the first two episodes of him taking his mask off, just a little bit when he is alone. As the show unfolds, I think the more we get a peek into who he is and how he got to where he is. These are the type of low-lives that are littered around celebrities and you scratch your head sometimes and think, "How the hell did she or he end up with them?"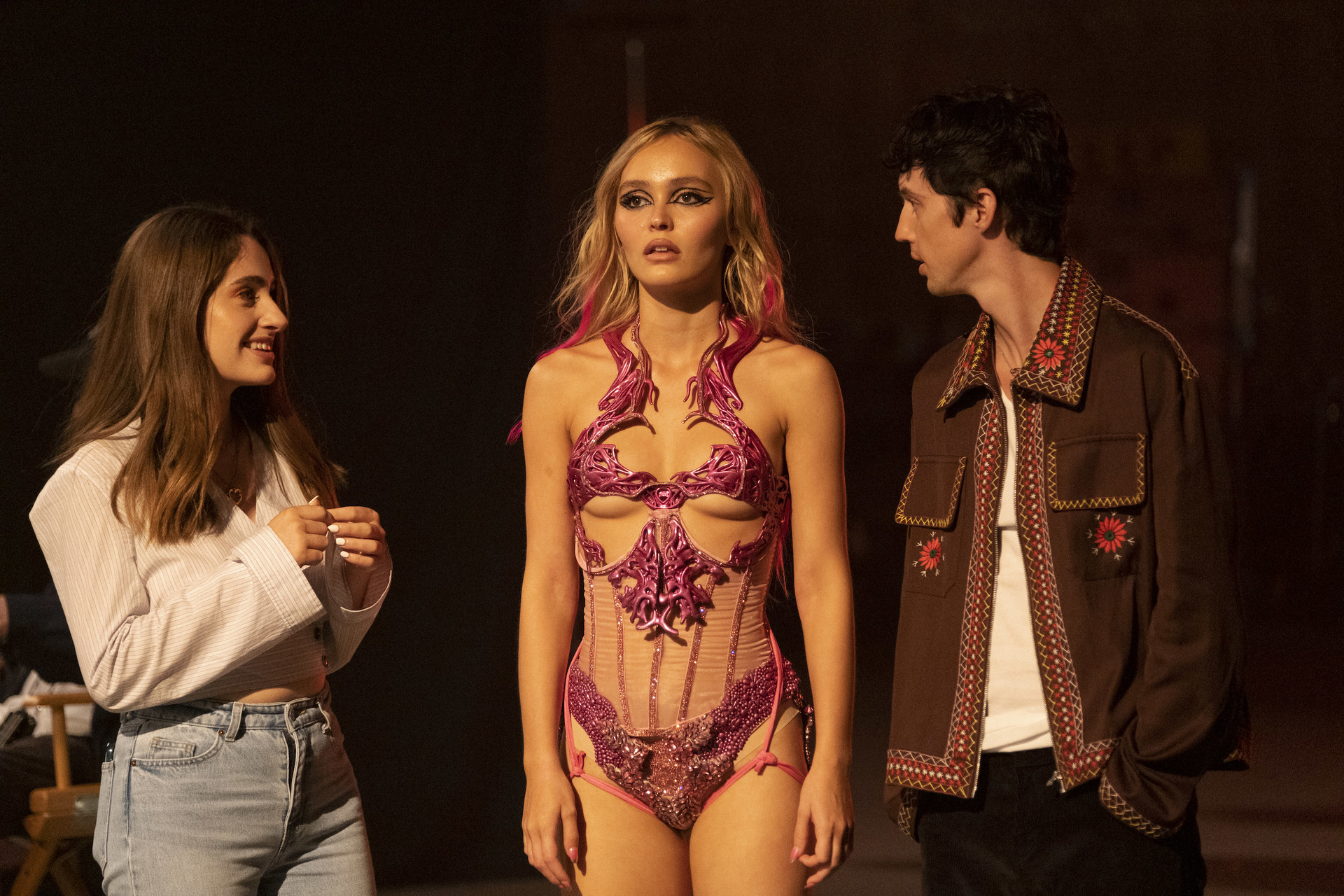 You said a lot of this character and this story is based on your experience in the music industry and the pop world, how common is this?
As Jocelyn, so from Jocelyn's perspective. A lot of myself is definitely in Jocelyn's world. It's definitely autobiographical in the sense of management and team and the pressure of the music industry and the paranoia of it all. But me, also being fortunate enough to have a great team around me and being able to mirror it with other celebrities that don't have that, that are not as fortunate as I am, as I like to say.
Right, they don't all have that kind of support, especially women. We see it in the second episode, the video shoot was so stressful to watch.
Heartbreaking, yeah.
You can feel her desperation. Is that something that you worked with Lily on?
We both shared our love for perfection. As an actress, she's not going to move on until she gets the take she needs. We both connect over that and as a musician as well too. We bonded over that. But she worked really hard on Jocelyn. We spent years developing her as a musician, as a dancer. Watching episode two and seeing her play this role, it just gets me emotional because I'm so proud of her and she's nailing it.
She's incredible. Not only does she have to learn the dance moves, but she has to get the emotion right.
Yeah. She's got to learn the dance, she's got to learn how to not hit it, and then hit it, and then be affected by not being able to hit it. And then there's the music aspect of it, because I think what was really important for me and Sam too is that, the truth is with music, it's subjective. No matter how good you think a song is, we wanted to make sure that it got through to the screen that the music is subjective. You might like the remix that they did, or you might not, the point is, it's not right. It's just not right for them.
And then the support system around her, it's like, you have the best friend that's like, "I like it." And then you have the label that's like, "Well, this isn't what we spent millions of dollars on." So it comes to a point where it's not about the actual song and how she feels. The music of it all was really fun for us.
And even Tedros telling her, "Why did you show it to them? It wasn't done." She thought he would be proud.
Exactly. She didn't get the validation, it's a mindfuck, she's going through it.
Working with Lily, you two obviously have a lot of intense, intimate scenes together. I recently interviewed an intimacy coordinator because there seems to be this conversation about sex scenes in TV and movies. Can you talk about working on those?
Those scenes are always nerve-wracking for everyone, but we know that we're not doing anything unless everybody feels comfortable and safe. There's not even a thought about it. These are weeks and weeks of discussion before these types of scenes, nothing is being thrown in the mix.
Sam could speak to it obviously, but there are layers to these things, especially in Episode 2, you really show how much of a loser Tedros really is. Sam could speak to it much more articulate than I can, but really I feel safe. Lily, of course, it's all planned out weeks prior.
Yeah, that's what I learned, that there are conversations with the actors, with the producers. It's like a whole thing.
Yes, the conversation is much longer than the actual scenes and the shots.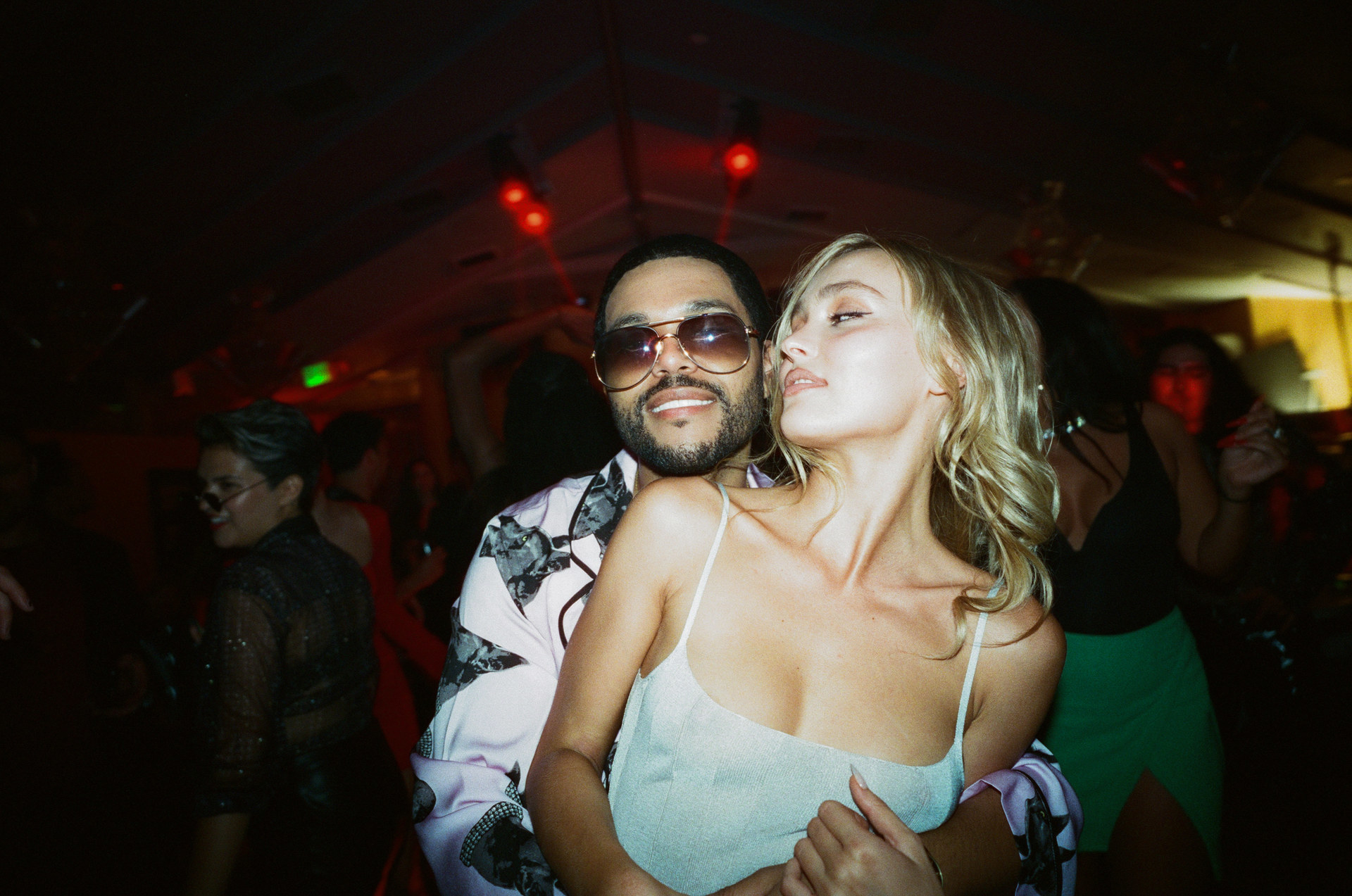 You working with Sam has been years in the making. He said he read articles about the show and was like, "Well, it's going to be the show of the summer." All of you seem so enthused about the show and also very protective of the work that you've done together and of each other. Can you talk to me a little bit about that?
Yeah, we've been working on the show for so long, and we're just so proud and happy that we got to this place with the show. I think when he said that, it just came from a genuine place of celebration, like "We're here." I think we're all just so proud of it.
We still want to make entertainment, it's still got to be fun. The thing about the show is that it's dark, but you also don't want it to take itself too seriously. There needs to be some fun. And I think the comedy end is very important there. It's exciting to see the two worlds colliding, two of Jocelyn's worlds colliding in the next few episodes, the scumbag club owner life world, and her music industry world. It was really fun working with Rachel Sennott because she's just a genius. But again, I think the camp and the satire are really important. When it's scary, it's scary. It's like a Giallo—it's scary, but it still somehow makes you laugh. It's hard to explain.
You have the light moments and the dark moments; that's just life but this is obviously to the extreme of what most people experience. And I think that's what fans are grappling with.
Of course. And look, it's dark and I wanted to draw the line. I don't want to confuse the audience at all. It was a challenge, but I think everyone's in for a treat.
New episodes of The Idol debut on Sundays on HBO.