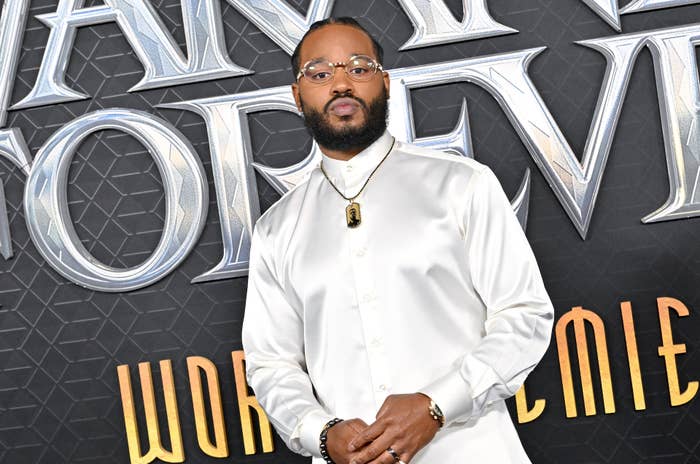 Spoilers for 'Black Panther: Wakanda Forever' below.
Ryan Coogler is a magician. 
The director was trusted with the gargantuan responsibility of creating a sequel for 2018's Black Panther that would live up to the first—which shattered records and shifted the culture—all without his leading man. When Chadwick Boseman died after his private battle with cancer in 2020, fans around the world grieved the loss of an icon gone too soon. Behind the scenes, Coogler and the Black Panther cast were not only mourning the death of a brother and friend but also of their T'Challa. The superhero and Wakanda's future were uncertain until it was announced that Coogler and Marvel were moving forward and making a second film, without recasting the iconic role. 
As far as storytelling goes, Coogler and fellow scriptwriter Joe Robert Cole had to collaborate in creating a narrative that both made sense within the Marvel universe and would also appropriately honor Boseman's memory along the way. And judging by the results, Black Panther: Wakanda Forever, in theaters on Nov. 11, checks every box. 
"It was a priority for us that we make the film something that could work for audiences as a piece of filmmaking, as a piece of cinema, as a piece of entertainment. We wanted it to service all of those things, but we also wanted to make an ode to [Chadwick] and what he meant to us," Coogler tells Complex. "He meant both things to us. Chadwick was very much T'Challa for us, but T'Challa was only a facet of who Chadwick Boseman was and we wanted the film to be an ode to both of those things without sacrificing everything else."
The way Coogler handled T'Challa's death in the movie was astute, seamless, and deeply emotional. The character dies from an undisclosed illness in the opening scene, leaving the people of Wakanda and his family in deep sorrow, similar to what people experienced in real life. A big question going into the sequel following Boseman's passing was who would take on the Black Panther mantle as Wakanda's protector. The film's trailer hinted that his little sister Shuri, played by Letitia Wright, would be the one to take on the role. "She was the right vehicle because when I thought about the characters and I thought about who losing T'Challa would impact the most, it made sense that it would be Shuri," the director says about his decision to make Shuri the film's anchor. "In the narrative of the characters, she was the only main character who had never been without T'Challa ever."