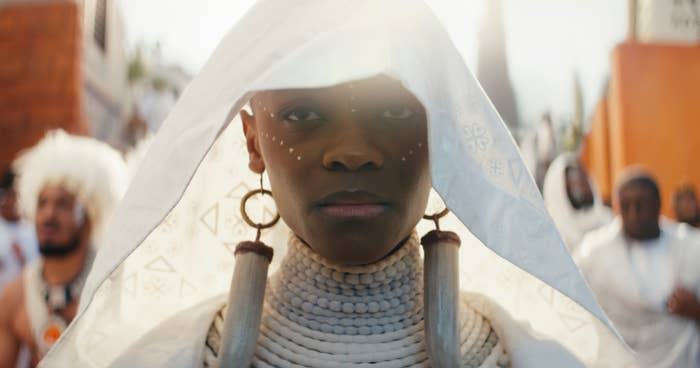 September has been a slow month at the box office but don't expect the same for the rest of the fall months. After a big summer filled with blockbusters, and as temperatures cool down, fans will travel back to Wakanda, catch The Rock join the DC Universe, and finally see why Ana De Armas' upcoming film received an NC-17 rating. 
Black Panther: Wakanda Forever, Black Adam, and Blonde are all hitting theaters this fall, along with other projects that are geared to cater to any and every movie lover. The widely talked-about Don't Worry Darling is also in theaters later this month, while Halloween Ends and Hocus Pocus 2 are arriving just in time for Halloween. 
The time to be outside is behind us, so we have created a movie guide for What to Watch this fall. We have selected the ones we are looking forward to the most, and the ones we think will be worth your while, or at the least the ones you should see because everyone will be talking about them. So which one of these will make our end-of-year Best Movies list? Only time will tell. Check our fall movie preview below and check back in on our new releases column weekly for the latest in movies and TV. 
'Pinocchio'
'Don't Worry Darling'
'Blonde'
'Pearl'
Release Date: Oct. 21 

Director: Jaume Collet-Serra

Cast: Dwayne "The Rock" Johnson, Pierce Brosnan
The 11th entry in the DCEU, Black Adam tells the origin story of Shazam's archrival who escapes a 5,000-year-long imprisonment by the Council of Wizards after he misuses the powers of the ancient gods. The Justice Society of America (composed of Hawkman, Doctor Fate, Cyclone, and Atom Smasher) will also get involved and are rumored to have a spinoff in the future.
If it seems like we've been talking about this film for years, it's because we have. COVID-19 delayed filming. Then the film was delayed further in post-production so the visual effects team would have more time to fine-tune the details. Based on the trailer, their patience may have been worth it and no one is more excited for fans to see this hit theaters than The Rock himself. 
'Hocus Pocus 2'
'Amsterdam'
'Decision to Leave'
'Halloween Ends'
Release Date: Nov. 11

Director: Ryan Coogler

Cast: Letitia Wright, Lupita Nyong'o, Danai Gurira, Winston Duke, Tenoch Huerta
After a long wait, the moment we've all been waiting for is finally here. Black Panther: Wakanda Forever, the 30th MCU film, is coming this November and focuses on the aftermath of King T'Challah's death. Other kingdoms, such as the Aztec Kingdom of Talocan, sense a rare moment of weakness in Wakanda and push to take advantage.

After Chadwick Boseman died in 2020, Marvel announced they would not recast the role. It begged the question: Who would be next in line for the throne? The obvious choice is Princess Shuri, and most signs point in that direction. But we're still holding some anticipation for a swerve. Wakanda Forever will also introduce Riri Williams (Dominique Thorne) aka Ironheart, who will star in her own spinoff show on Disney+ in fall 2023.
'Avatar: The Way of Water'