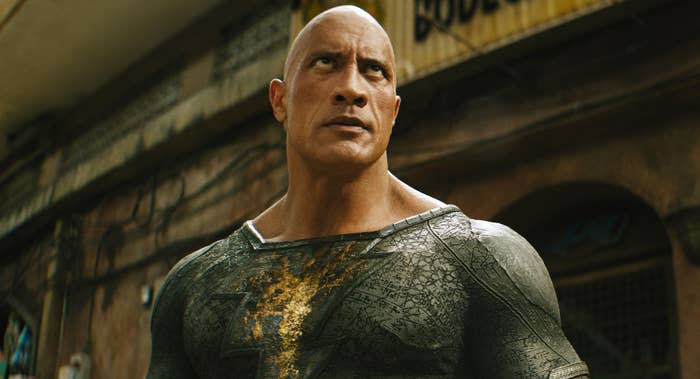 Black Adam, in theaters Friday, Oct. 21, may not be everyone's cup of tea so far, but to dismiss the superhero film altogether so quickly is doing a disservice to those the movie was intended for. 
Fans of superhero flicks are more often than not eager to share their thoughts, criticisms,  comparisons, and reviews as soon as they watch the movie, which can lead to missing the bigger picture. I tend to lean more toward Martin Scorsese's point of view when it comes to these types of movies (he once famously said he doesn't think they're "cinema.") For me, most of them lack emotional depth, the characters lack complexity and diversity, and the stories are usually bereft of substance—but I didn't feel that way about Black Adam.  
During the premiere in New York City last week, no one could stop talking about how long it took for Black Adam to come to life. When presenting the movie at the screening, Dwayne Johnson, who stars in the film as the titular antihero, said news that he would be playing the comic book character was first announced 15 years ago. Johnson has since built a solid resumé as a movie star and entertainment mogul, but the way he speaks about this film shows that this is the role of a lifetime for him. 
It's clear that his determination to stay committed to the project for over a decade is bigger than him. When you've been doing this long enough, it's easy to differentiate between actors who accept a role for a paycheck and those who take on a project with a greater purpose in mind. For Johnson, it seems like this role represents a way for him to influence younger viewers the way the comic book character influenced him as a child.
When chatting with the actor on the red carpet at the premiere, he spoke about how timely the movie's release has been with the recent massive push for diversity in Hollywood. "It means everything to me. That's something that has always been a lead foot for us at Seven Bucks, especially with Black Adam," Johnson tells Complex. "I love Superman, I grew up a Superman [fan], and DC! But when I saw my first Black Adam comic, he was badass, he was cool. He had brown skin, so I identified with him. And I thought, 'I want to be that guy!' So that's why I've been pushing for this movie for so long, for so many years."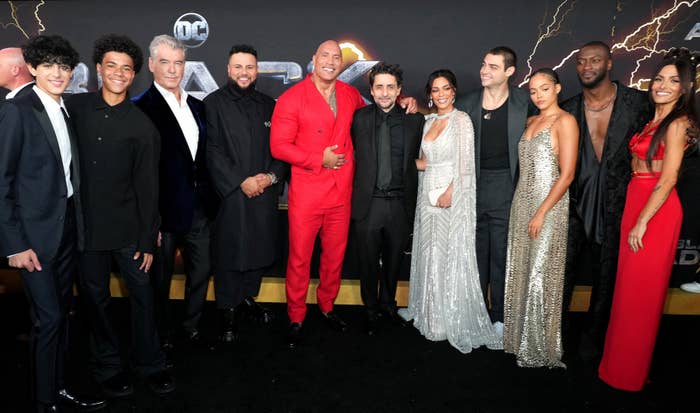 Someone who grew up watching characters like Superman, Batman, and Spiderman portrayed by actors who look just like them might be quick to ignore the messaging within Black Adam. While the comparison to previous DC or Marvel films is expected, Johnson's focus is not to win the approval of movie critics or other diehard superhero fans—he did this for the ones who haven't been able to see themselves in those previous films. (And until 2018's Black Panther, there was a major issue with representation in this movie genre.)
"Black Adam influenced me as a kid and made me think, 'Oh, I can do that, I can be that!' and now years later, I am that," Johnson tells Complex. "Hopefully, with Black Adam, little Black and little brown boys, little boys of color and little girls of color, all kids, will look at Black Adam and the JSA and the cast and the color and the diversity that we have in our cast and crew, and go, 'I can be that!'"
Directed by Jaume Collet-Serra, the film tells the story of an antihero known as Teth-Adams, who is from Kahndaq, a fictional Middle Eastern nation in the DC Universe. Present-day Kahndaq is oppressed by the Intergang who have invaded the country in search of the Crown of Sabbac, which is made out of Eternium, the mineral that gives Black Adam his powers. The nation's people are tired of living under oppression, and thanks to an archaeologist named Adrianna Tomaz (Sarah Shahi), her brother Karim (Mohammed "Mo" Amer), and son Amon (Bodhi Sabongui) they get the hero they so desperately deserve. After they get ahold of the crown, they free Teth, who has been imprisoned for 5,000, and he reluctantly becomes Kahndaq's sole protector. 
Kahndaq may be fictional but it is representative of many nations around the world that have been in similar circumstances because of external forces. Black Adam fights against Intergang, while the Justice Society of America attempts to "keep the peace" by removing the only person who has stepped in to help them. Showing a woman like Adrianna and a boy like Amon be the ones who fight for their country's freedom also sends a powerful message: women and children can be heroes in their own communities, too.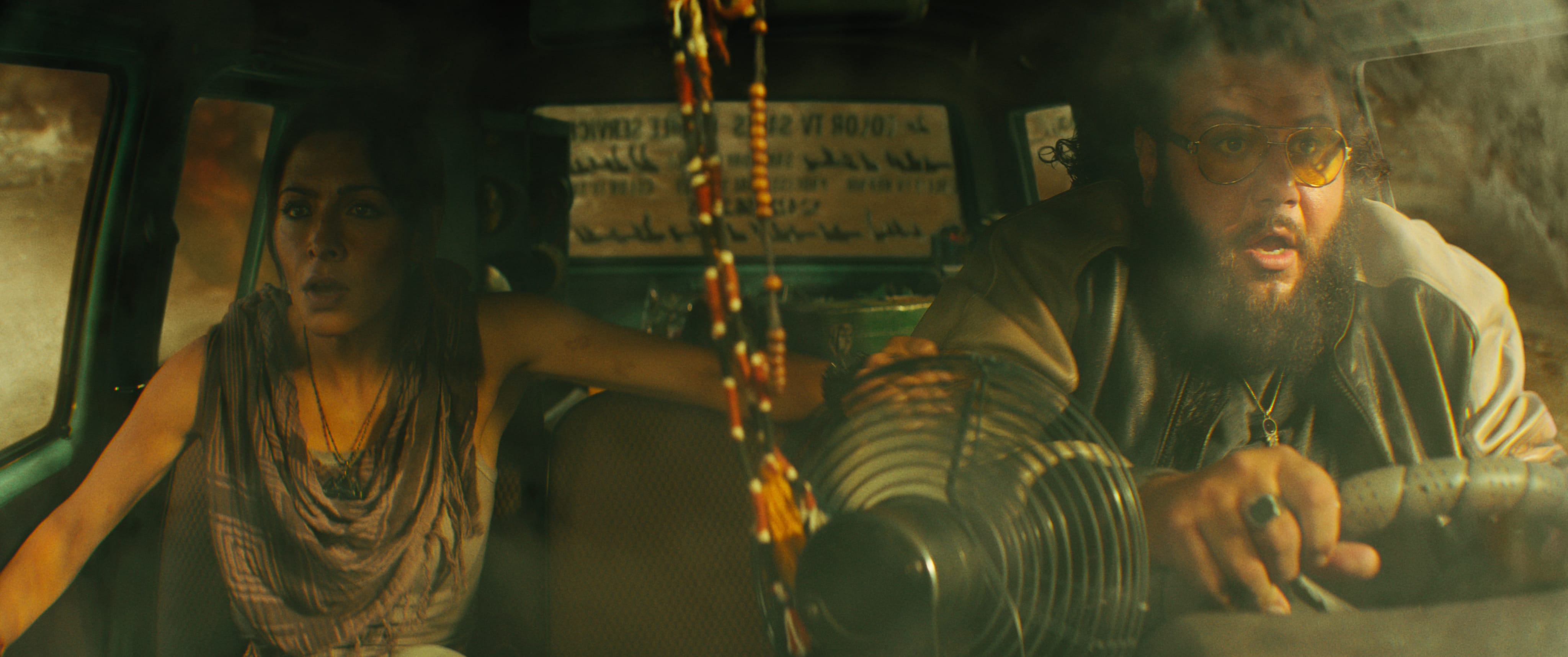 For Amer, who is Palestinian, being part of a project like this was both rewarding and emotionally challenging. "It brought a smile every day when I was going to work," Amer tells Complex about filming. "Sometimes it was really rough emotionally because of the way the sets were and what it is. You're there looking around and you think people have experienced this, where their countries have been destroyed, and it was hyper-real at moments, to be honest." 
"It really just centered my focus and made me want to do really well in the film to make sure that I can contribute everything that I can and leave it all out there," he added. "We did, we all did. We all had bumps and bruises. We all went through it, emotionally and physically, and we did everything we could. I hope the fans love it."