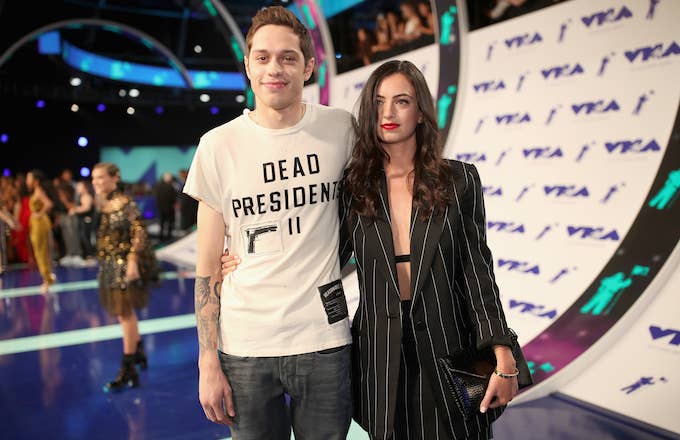 Pete Davidson and Cazzie David have broken up, according to Us Weekly. The Saturday Night Live cast member and the Eighty-Sixed creator, who is also Larry David's daughter, were together for two years, since May 2016. One source told the magazine there's a chance the 24-year-olds could get back together. 
The pair met back in 2015, when Larry hosted an episode of SNL. In an October 2016 interview with Complex, Davidson said he has an arm tattoo of a self-portrait Cazzie drew when she was a child.
"She's the most beautiful girl in the world," Davidson told Entertainment Tonight in April 2017. "Look how lucky I am! She's so smart. She is a very, very wonderful lady."
Davidson has been diagnosed with borderline personality disorder since December 2016, and has been candid about his mental health. He has also struggled with substance abuse issues, and has cited Cazzie as helping him stay focused on health and soberity.
"I'm very lucky. She's very, very supportive," he told ET. "I felt like if I just kept it to myself, nobody would know, but if everybody knows, then you kinda have to keep yourself in check so you don't let anybody down. So I thought that was a good idea to do."
Back in February of this year, it seemed the couple had a nasty fight and potentially broken up. Davidson posted a photo of Cazzie kissing his arm with the caption: "Idk what I did to make you hate me so much but I'm sorry." According to a Us Weekly source, the two were just kidding "as comedians tend to do," and a representative for Davidson also confirmed they had not broken up at the time.