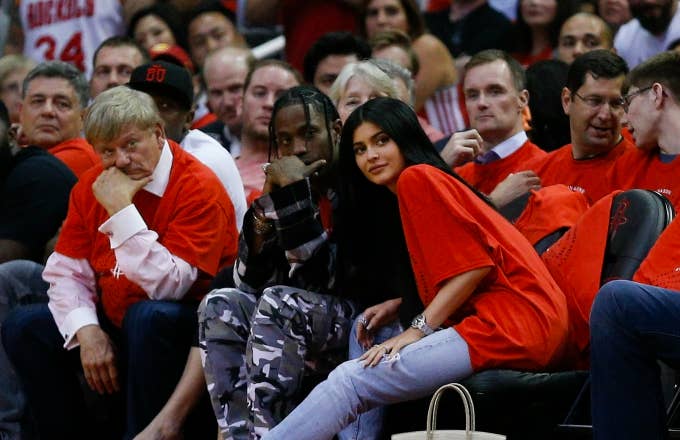 A few weeks ago, the internet went up in gossip fueled flames when multiple outlets reported that Kylie Jenner, the baby of the Kardashian Klan, was pregnant. Her baby daddy is supposedly current boyfriend of seven months, Travis Scott.
Since neither her nor anyone from her family officially confirmed the news, the reports sent everyone on wild goose chases around Kylie's many social media feeds for clues about the pregnancy, but so far she's been keeping things pretty tight. That is, until she showed up on her Snapchat wearing a huge engagement ring, which now has everyone asking: is Kylie Jenner engaged? To put it another way: is Kylie Jenner engaged to Travis Scott?
It all started when a savvy Snapchat user noticed Kylie was wearing a ring on her finger while driving to her sister Kim's baby shower for her third child, which will be delivered via surrogate.
But here's the thing: Kylie's ring is not just any old ring. It's a massive, sparkling rock you could see from miles away. You don't play around with a ring like that, and you definitely don't put it on your ring finger of all places if you don't want people to speculate. She even purposefully moves her hand to make sure she gets it in the frame.
Travis Scott, who performed earlier Sunday at the MTV Video Music Awards in London, has made absolutely no mention of his relationship with Kylie or the pregnancy rumors.  
Here's the thing, though. Kylie could just be playing with all of us. She's certainly been having fun playing around with the rumors, posting all-pink photos that suggest the sex of her baby, and even joking around with her sister Khloé—who has also been hit with still unconfirmed pregnant rumors of her own—that the two "have so many babies" in a recent video. She has yet to confirm or deny any pregnancy rumors. Recently, she confused fans by buying tampons and calling out some paparazzi photos for being Photoshopped to make her look heavy.
At the same time, she hasn't posted a recent full-body photo to her Instagram—something she would often do multiple times a day before these rumors starting swirling—and is constantly pictured in baggy clothing. Honestly, all of this is just speculation. We all know that Kylie could definitely afford to buy that ring for her damn self if she wanted to. Maybe Kylie is just eating good. We'll know soon enough if there's a new Kardashian baby in the world or not, so all we have to do is keep wildly speculating about these people's lives to pass the time.