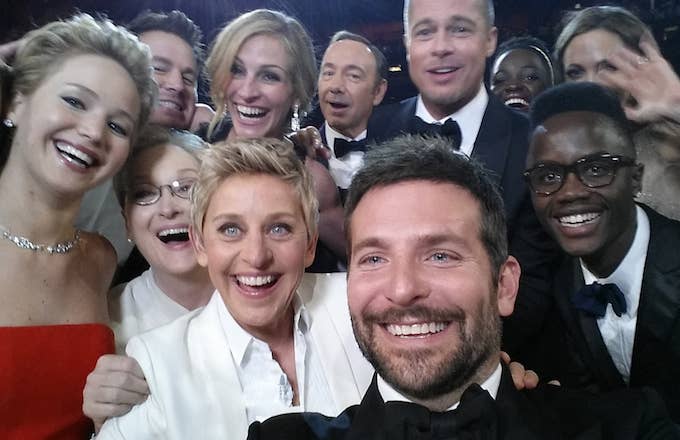 In the wake of the Time's Up movement, attention has shifted to just how lopsided women's representation in the entertainment industry really is. Just last week, after Neil Portnow said women who wanted to win more at the Grammys should "step up," a USC study found that only nine percent of Grammy nominees are women. The Oscars face a similar issue, and a new report by the Women's Media Center shows just how little progress women have made in non-acting awards at the Oscars.
To start off, 77 percent of all Oscar nominees in behind-the-scene roles like directing, cinematography, and editing are men. Still, "despite a concerted push by women and their allies to achieve greater representation for females in all parts of the film industry," there have been only small improvements in the number of women who are recognized for their performances in "non-acting categories that feature writing, editing, producing, and directing roles," it reads. The report found that of the 19 major non-acting categories, the percentage of women nominees increased this year, but only to 23 percent from 20 percent last year.
There were absolutely no women nominees in three categories: Original Score, Sound Editing, and Visual Effects. It's not just this year: in the entire history of the Oscars, only five women have ever been nominated for original score, and only one in the past 10 years: Mica Levi for Jackie. Furthermore, only eight of the 99 nominees in the past 10 years of the sound editing category were female, and that includes the three women nominated last year.
Things don't get any more inclusive in the visual effects category, primarily because there aren't a large number of women in that area in the first place. "Female VFX supervisors worked on only five percent of the 250 top-grossing films in 2014, and the numbers do not appear to be improving," the Women's Media Center report found.
Another important category for women is Best Director. Greta Gerwig has become the fifth woman ever nominated for Best Director with Lady Bird; she's also the first woman nominated in that category since Kathryn Bigelow, who won in 2009 for Hurt Locker. If Gerwig wins, she'll be the first woman ever to win a Best Director Oscar for a movie she also wrote. Interestingly, since 2009, four films directed by women have been nominated as Best Picture, but the directors themselves were not nominated.
Beyond Gerwig, though, there's disappointing news. Women producers represent 27 percent of the Best Picture nominees, compared to 30 percent last year. "This is especially disappointing, considering five of the nine films nominated for Best Picture star or costar a female lead, and four of them have Best Actress nominations," the report states. "This represents an unusually strong year for female-driven films. The last time there were four Best Picture contenders featuring Best Actress nominees was 2012. There are 22 men and eight women producers nominated this year, compared to 21 men and nine women last year."
When it comes to writing, this year saw four female nominees across two categories. Three of the seven nominees for Best Original Screenplay are women, which is at least better than last year's zero. There is also one woman nominated for Best Adapted Screenplay.
There is one category that saw "impressive gains" for women: Animated Feature. The amount of women in this category increased to 46 percent from just 17 percent last year. "This is due primarily to two films in the category having been directed by women," the report found. "It is extremely rare for there to be any female directors at all in this category, and to have two in the same year is by far a 10-year high… Only two women have ever won in the category since its inception in 2001."
Another ray of light comes from another first at this year's Oscars: Mudbound's Rachael Morrison has made history by becoming the first female cinematographer to receive a nomination in 90 years of the awards show.
"Rachel Morrison shattered the glass ceiling for women nominees in cinematography, and we applaud her historic achievement. We are also proud of the efforts of all women who continue to break barriers in the film industry, despite systemic cultural and institutional bias," said Julie Burton, president of the Women's Media Center.
"Over the past year," Burton said, "many brave women have stepped forward to tell stories of pervasive sexual harassment and worse in the film industry, forcing the nation to realize how little power women have had in Hollywood and sparking new demands for change. The absence of women in critical behind-the-scenes roles—and the fact that men represent 77 percent of all nominees—means that women in the industry are missing opportunities for recognition and power. The larger society is deprived of women's voices, perspectives, and creativity. At a time when women are demanding more power and visibility, these low numbers should be a wakeup call for Hollywood executives. The message is 'Times up for inequality.' "