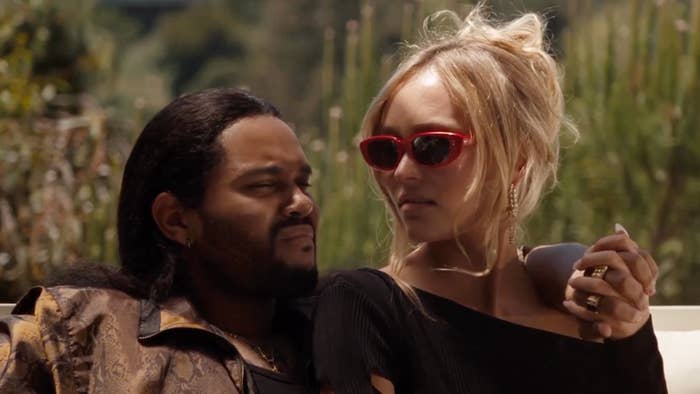 The Weeknd has responded to Rolling Stone.
The multi-hyphenate took to Instagram on Wednesday to share a clip of The Idol, his upcoming drama series for HBO. The teaser shows self-help guru Tedros (the Weeknd) and the titular character Jocelyn (Lily-Rose Depp) sitting poolside while speaking to Dan Levy's character. The latter is pitching Jocelyn a possible photoshoot for Rolling Stone—an offer that Tedros quickly rejects.
"Rolling Stone? Aren't they a little irrelevant?" Tedros asks. "Nobody cares about Rolling Stone…Rolling Stone has 6 million followers on Instagram, half of them probably bots. And Jocelyn has 78 million followers. All real. So she does a photoshoot, she tags them, they get her followers, more money for Rolling Stone, nothing for Jocelyn."
"There's a lot for Jocelyn," Levy's character replies.
"Not in Rolling Stone," Tedros says.
The Weeknd captioned the post, "@rollingstone did we upset you?"
The magazine's editor-in-chief Noah Shachtman responded shortly after. "Not at all," he wrote, along with two Rolling Stone covers featuring the Weeknd.
The clip was shared via Instagram on Wednesday, just hours after Rolling Stone published a damning report about The Idol's production. Citing more than a dozen insiders, the story paints the experience as one of constant chaos. Team members claimed the show was subjected to numerous delays due to last-minute script rewrites and reshoots.
"It was, let's just say, a shitshow," one source told the magazine.
It was reported that the changes were made after the Weeknd expressed concern about the series' direction and its focus on the "female perspective." The singer—who co-created the series alongside Reza Fahim and Euphoria creator Sam Levinson—allegedly scrapped the original storylines, which were told through the "feminist lens."
"It was like the Weeknd wanted one show that was all about him—Sam was on board with that," another source told Rolling Stone.
HBO responded to the report in a statement to Complex.
"The creators and producers of The Idol have been working hard to create one of HBO's most exciting and provocative original programs," a representative said via email. "The initial approach on the show and production of the early episodes, unfortunately, did not meet HBO standards so we chose to make a change. Throughout the process, the creative team has been committed to creating a safe, collaborative, and mutually respectful working environment, and last year, the team made creative changes they felt were in the best interest of both the production and the cast and crew. We look forward to sharing The Idol with audiences soon."
HBO has yet to announce an official release for The Idol, which is expected to premiere later this year.