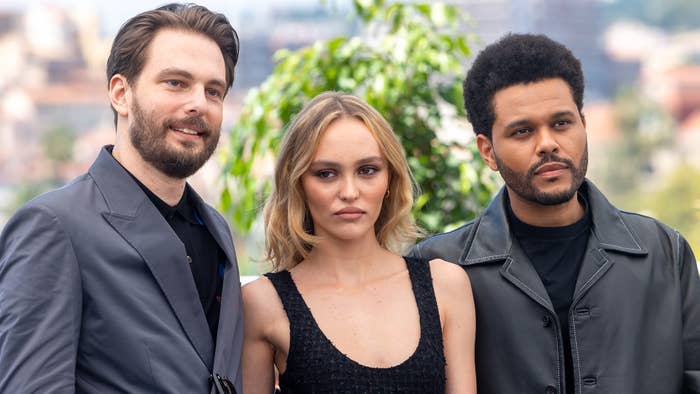 Uncertainty continues to loom over The Idol.
According to recent reports, the controversial drama series — written by The Weeknd and Euphoria showrunner Sam Levinson — would possibly conclude with Season 1, following widespread criticism over its acting, storyline, and graphic sex scenes. However, HBO has since come forward to squash the reports, insisting the studio has not made any decision regarding The Idol's future.
"It is being misreported that a decision on a second season of The Idol has been determined," the entertainment giant tweeted Thursday. "It has not, and we look forward to sharing the next episode with you Sunday night."
The post came just hours after Page Six published an article titled: "Fate of 'The Idol' up in the air amid criticism of The Weeknd's 'egomaniacal' behavior." A source told the outlet the Weeknd — who co-created the series alongside Rexa Fahim and Euphoria showrunner Sam Levinson — had no plans to work on a sophomore season.
"This was never meant to be a long-running show, it was always … a limited series," the insider said.
An HBO source pushed back on the claim, saying Season 2 was still a possibility.
"The door is definitely still open — it's definitely not a decision [yet]," the said. "At this point, this is normal in our process … we're only two episodes in."
Complex has reached out to the Weeknd's representative for comment.
The Idol stars Lily-Rose Depp as Jocelyn, a rising pop singer who becomes romantically involved with a self-help guru/cult leader named Tedros (the Weeknd). Between the synopsis and star-studded cast, had all the ingredients for another HBO hit; however, The Idol was marred by controversy months before its June 4 premiere.
Rolling Stone published a March 1 scathing report about the show's "chaotic" production, which included everything from a director shakeup to expensive reshoots to constant script rewrites. Insiders also slammed the series' creative direction, claiming it went from a female-centric storyline to one that glorified sexual exploitation. Sources specifically took issue with the series' portrayal of sex and predatory behavior.
"It was like any rape fantasy that any toxic man would have in the show," a production member said about the show, "and then the woman comes back for more because it makes her music better."
The Idol episode 2 featured a viral sex scene that was many described as cringe, over-the-top, and gratuitous. The Weeknd addressed the criticism in a recent interview GQ, insisting the scene was not intended to be sexy.
"There's nothing sexy about it. When we use Basic Instinct as a reference, we're using Verhoeven," he said. "Verhoeven is the king of '90s satire thriller—yes, there's moments of 'sexy' in his films but there are other moments that are very cheesy and hilarious. How ever you're feeling watching that scene, whether it's discomfort, or you feel gross, or you feel embarrassed for the characters. It's all those emotions adding up to: This guy is in way over his head, this situation is one where he is not supposed to be here."