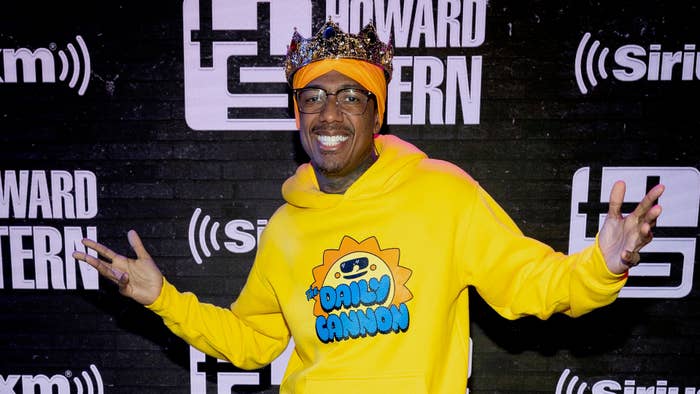 Nick Cannon is understandably convinced that his sperm is stronger than average.
The father of 12 revisited the topic during a recent appearance on Howie Mandel Does Stuff, where he was asked about his ever-expanding family and whether he has plans to welcome more children. Cannon told his fellow long-time TV host that he's "very happy" with his dozen, but can't say what the future has in store.
"There's no way to answer that question correctly, because everyone has a problem with however I answer it," Nick said. "So I'll just say, as of right now, I have 12 and I'm very happy. But if…who knows?"
Mandel then asked the comedian if he's taking any steps to prevent another pregnancy, such as abstaining from sex or using contraception. Cannon said he tried going celibate but was unsuccessful, and that his swimmers were so strong that birth control was sometimes ineffective.
"Hey, I'm gonna be honest, I got some super sperm or something, 'cause I've practiced birth control, and people still got pregnant," he told Mandel. "But, to say that, I mean…I'm trying to be as responsible as I possibly can, learning lessons."
"It's hard to be responsible when you have super sperm," Mandel interjected.
Check out the full interview below.
Cannon has received plenty of attention for his unconventional approach to fatherhood and romantic relationships. The 42-year-old, who engages in "consensual non-monogamy," became a parent in 2011, when he and ex-wife Mariah Carey welcomed their twins Moroccan and Monroe. Since then, Cannon has had three children with Brittany Bell; another set of twins and a girl with Abby De La Rosa; a son with Bre Tiesi; a daughter with LaNisha Cole; and a daughter with Alyssa Scott. Cannon and Scott also had a son named Zen in 2011, but lost him to brain cancer just five months after his birth. 
In 2022, Cannon spoke about the challenges he's faced as a father and how it's often difficult to give each child adequate attention.
"Being a father of multiple kids, it's always the biggest guilt on me is that I don't get to spend enough time with all my children." he said during an episode of Paramount+'s The Checkup with Dr. David Agus. "One, 'cause I'm constantly working and two, because I'm just spread thin."