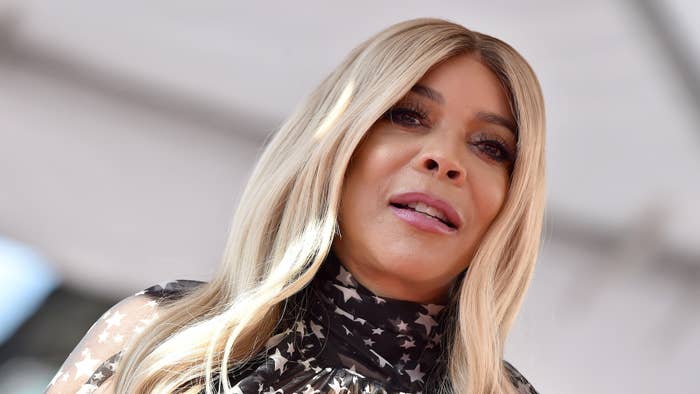 UPDATED 2/14/20 11:14 a.m. ET: Wendy Williams has apologized for her remarks on her show, in which she said that gay men should "stop wearing our skirts and our heels."
"I'll start by saying I apologize, I did not mean to offend my LGBTQ+ community on yesterday's show," she said in a video posted to Twitter. "I didn't mean to hurt anyone's feelings, I'm just having a conversation," adding that she understands how she may have seemed "out of touch."
Read the original story below.
On Wednesday, Wendy Williams teared up during her segment covering the story of Zaya Wade, daughter of NBA great Dwyane Wade. Williams praised Zaya for courageously knowing who she is at such a young age, and preached acceptance from others, saying, "For those of you who don't understand it or don't like it — don't say anything." One day later, Wendy delivered a message to "gay men," telling them to "stop wearing our skirts and our heels." 
While discussing Galentine's Day, an unofficial holiday created by Parks and Recreation where it's "ladies celebrating ladies," Williams wasn't enthusiastic to see gay men clapping when she polled her audience to see who was celebrating the holiday on February 13.
"If you're a man and you're clapping, you're not even a part of this," Williams said, per People. "You don't understand the rules of the day. It's women going out and getting saucy and then going home. You're not a part." 
"I don't care if you're gay. You don't get a [menstruation] every 28 days," she added. "You can do a lot that we do, but I get offended by the idea that we go through something you will never go through." The host went even further on her tirade against gay men, specifically those who push for gender fluidity in their fashion choices.   
"And stop wearing our skirts and our heels," Williams continued. "Just saying, girls, what do we have for ourselves? Looky here now, gay men, you'll never be the women that we are. No matter how gay." Considering Wendy is the same person who said if you "don't understand it or don't like it — don't say anything," she sure had plenty to say about men wearing skirts and heels.
Many people noticed the hypocrisy in her diatribe against men in gender-fluid fashion especially after she defended Zaya. 
Since Williams has her opinion on gay men wearing skirts, it's only right that we also highlight Porter's explanation as to why he chose to wear a tuxedo gown to the Oscars last year. 
"I grew up loving fashion, but there was a limit to the ways in which I could express myself," Porter said, perVogue. "When you're black and you're gay, one's masculinity is in question. I dealt with a lot of homophobia in relation to my clothing choices."
"Now I'm in a space where, being on Pose, I'm invited to red carpets and I have something to say through clothes," Porter continued. "My goal is to be a walking piece of political art every time I show up. To challenge expectations. What is masculinity? What does that mean? Women show up every day in pants, but the minute a man wears a dress, the seas part. It happened to me at the Golden Globes [when I wore a pink cape], and I was like, really? Y'all trippin'? I stopped traffic! That Globes outfit changed everything for me. I had the courage to push the status quo."