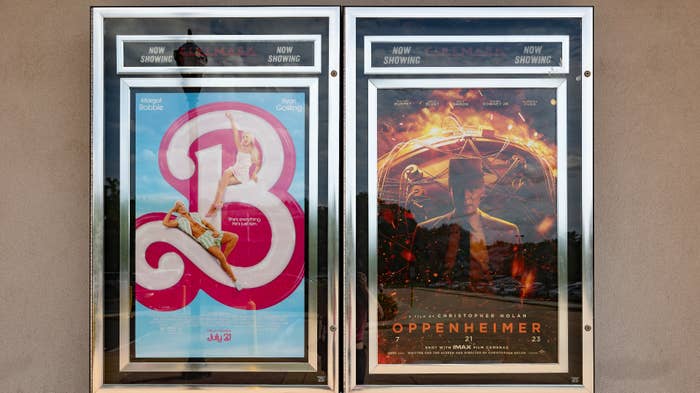 Warner Bros. Japan issued a statement Monday, condemning the studio's U.S. division for leaning into the Barbenheimer hype on Twitter and seemingly supporting images associated with Oppenheimer, the movie about the creation of the first atomic bombs that were dropped on the Japanese cities of Hiroshima and Nagasaki.
According to a translation from Deadline, Warner Bros. Japan considers the tweets from the official account of the studio's worldwide box office sensation Barbie to be "extremely regrettable" and demands that appropriate action be taken.
"We consider it extremely regrettable that the official account of the American headquarters for the movie Barbie reacted to the social media postings of 'Barbenheimer' fans," the statement reads. "We take this situation very seriously. We are asking the U.S. headquarters to take appropriate action."
"We apologize to those who were offended by this series of inconsiderate reactions. Warner Bros Japan," the message concludes.
One such Barbenheimer meme is a fan poster showing Margot Robbie's Barbie sitting on the shoulder of Cillian Murphy's J. Robert Oppenheimer in front of what appears to be an explosion. "It's going to be a summer to remember," the official Barbie account responded.
The comments are filled with people criticizing the Barbie account for making light of an actual event in Aug. 1945 that killed over 200,000 people.
The U.S. division of the Warner Bros. Film Group apologized for its "insensitive social media engagement" one day after the statement.
"Warner Brothers regrets its recent insensitive social media engagement," the company said in a statement obtained by Variety. "The studio offers a sincere apology."
The poorly-received Barbenheimer response from the official Barbie account has also been deleted.
While Oppenheimer has not been banned in Japan, the film does not have a release date in the country, as reported by Insider. Even without the Japan market, the Christopher Nolan-directed film has surpassed $400 million worldwide less than three weeks since its theatrical release.