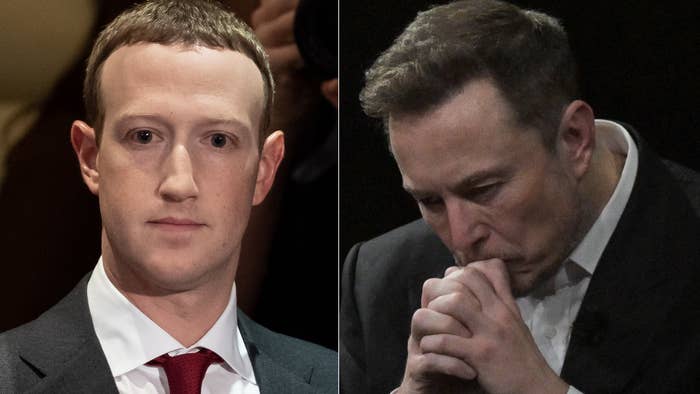 UPDATED 6/22/23 2:40 p.m. ET: According to UFC president Dana White, both Mark Zuckerberg and Elon Musk are indeed "serious" about squaring off in a cage match.
Speaking with TMZ, White said that he had spoken with both tech figures following the extensive headlines coverage of the initial challenge and its ensuing response.
"I was talking to both Elon and Mark last night," he told the publication. "Both guys are absolutely dead serious about this."
Elaborating further, White said "they both wanna do it." In fact, he's predicting this could be the "biggest fight ever in the history of the world" with the potential to raise a substantial amount of money for charity.
See original story below.
Facebook co-founder Mark Zuckerberg, who does jiu-jitsu, has apparently agreed to a cage match against Twitter CEO Elon Musk.
Musk proposed the cage match on his platform, to which Zuckerberg responded on Instagram, which is owned by Meta.
"Send Me Location," he wrote, tapping into his inner Khabib Nurmagomedov.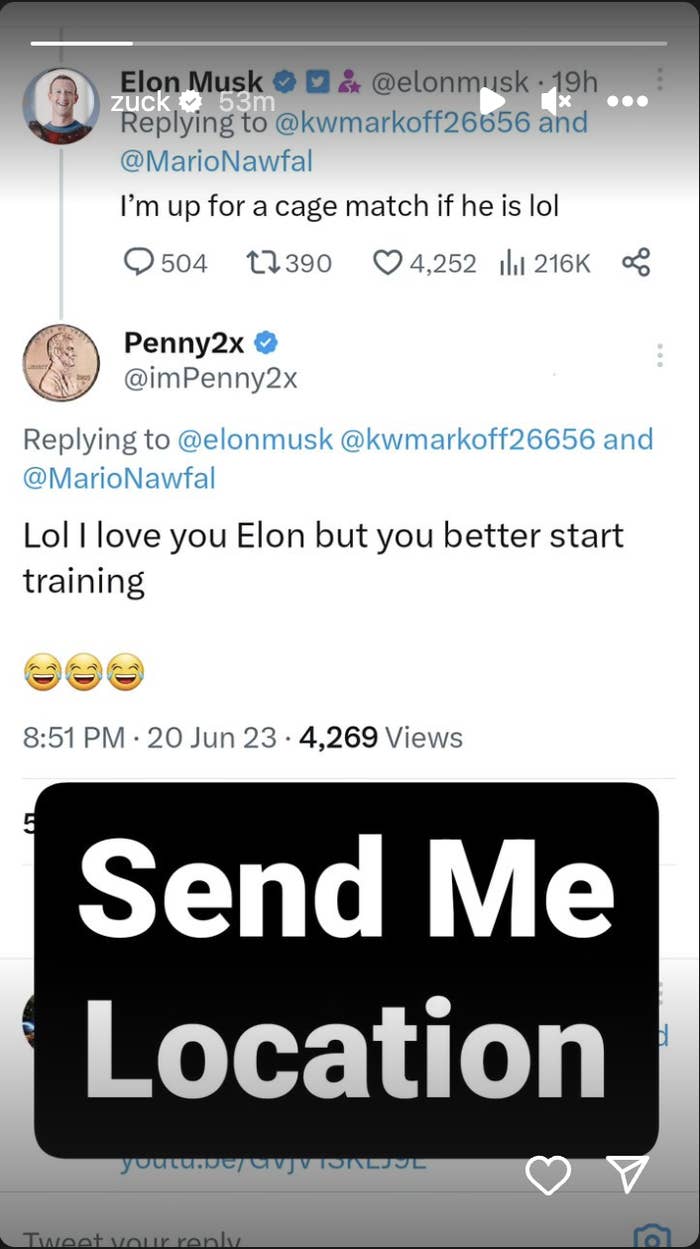 This isn't the first time Musk has issued a challenge to a notable figure via Twitter.
In March, he tried to engage in "single combat" with Russian president Vladimir Putin following the country's invasion of Ukraine. "Stakes are [Ukraine]," the SpaceX and Tesla CEO added.
After receiving a telegram from Chechen leader Ramzan Kadyrov in which he suggested an elaborate training regimen that would make him better suited for combat against Putin, Elon doubled down on his efforts by offering to fight with his non-dominant hand.
Zuckerberg, on the other hand, has been participating in jiu-jitsu training for more than a year. Zuck said on The Joe Rogen Experience that he was won over five minutes into his first training session, asking himself, "Where has this been my whole life?"
Zuckerberg issued a statement earlier this month, denying veteran jiu-jitsu fighter José Lucas Costa da Silva's claim in a New York Times article that the Facebook co-founder lost consciousness during a match in early May.