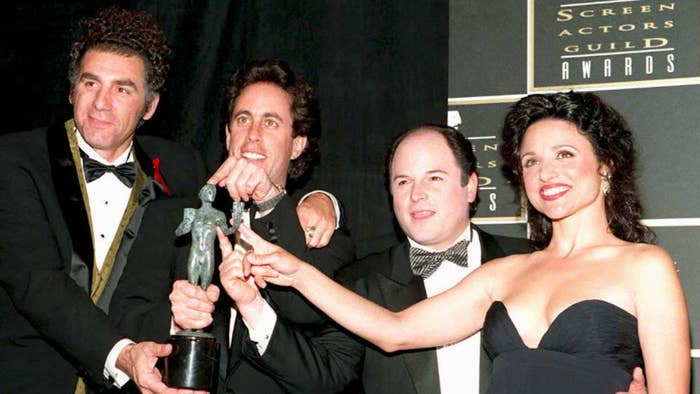 Julia Louis-Dreyfus doesn't believe in the idea of a "Seinfeld curse."
"It was invented by the media," Louis-Dreyfus said in an interview with Rolling Stone. "They thought it was clever. You don't need me to prove it wrong, it was ridiculous! It made no sense. I was amazed that it had legs, because it was so moronic. I don't know how else to say it!"
The Seinfeld curse came about when Jason Alexander (Bob Patterson), Michael Richards (The Michael Richards Show), and Louis-Dreyfus (Watching Ellie) were unable to find sustained success with their own television series following the conclusion of the Larry David co-created juggernaut in 1998. Many would consider Louis-Dreyfus to be the outlier in the trio, as she eventually starred in The New Adventures of Old Christine, which aired for five seasons.
According to Entertainment Weekly, Louis-Dreyfus mentioned the Seinfeld curse after receiving an Emmy for Outstanding Lead Actress in a Comedy Series in 2006. "I'm not somebody who really believes in curses, but curse this, baby!" she said.
Louis-Dreyfus went on to win the Emmy in the same category six consecutive years for her role as Selina Meyer on Veep, breaking the record for most wins as a single character, which was previously held by Candice Bergen for Murphy Brown. JLD also tied Cloris Leachman for most Emmy wins with eight.
Jerry Seinfeld discussed the alleged curse in a 2012 appearance on Watch What Happens Live, saying, "There never was a Seinfeld curse, because Larry David's done so well. I've done well…The New Adventures of Old Christine, Julia won an Emmy, so, curse fans, sorry, it's over."