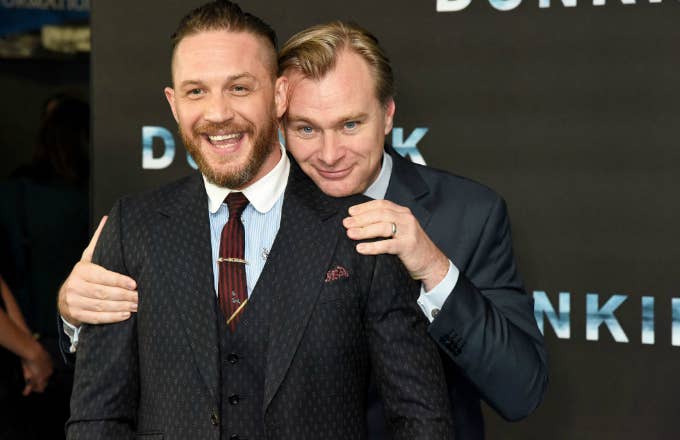 Tom Hardy is no stranger to covering up his face for a film.
But at this point, Hardy has probably come to expect it whenever he's attached to a Christopher Nolan film. Following their first movie together (Inception), Hardy donned the Bane mask in The Dark Knight Rises, and in Nolan's latest project, Dunkirk, which finds the 39-year-old actor playing a Spitfire pilot where his eyes are the only part of his face that remains visible. When asked about keeping Hardy's face more and more obscured with each project, Nolan pointed to the actor's unmatched "single eye acting." 
"I was pretty thrilled with what he did in The Dark Knight Rises with two eyes and couple of eyebrows and a bit of forehead so I thought let's see what he can do with no forehead, no real eyebrows, maybe one eye," Nolan told the Press Association. "Of course Tom, being Tom, what he does with single eye acting is far beyond what anyone else can do with their whole body, that is just the unique talent of the man, he's extraordinary."
In an interview with USA Today, Nolan admitted to begging Hardy "in a dignified manner" to take on the role of Farrier in Dunkirk because he knew what the actor could do with just his eyes. "I've had great experience hiding Tom behind masks and showing that he can act with only his eyes," he said. "It's all there, he has the most expressive eyes. He can pull the audience into the moment in an amazing way even with most of his face covered."