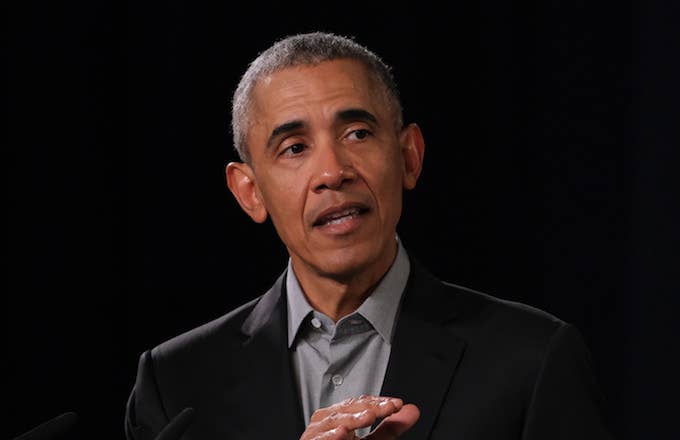 Because he knows you're interested, Barack Obama has released his favorite films and TV shows of 2019. 
Obama's list obviously features the documentary American Factory, the first film distributed by Higher Ground Productions, the production company he started with his wife Michelle. It's one of the 15 finalists on the shortlist for the Best Documentary Feature at this year's Oscars.
The former President had a nice assortment of features that included favorites for a Best Picture Oscar nomination (Marriage Story, The Irishman), critically acclaimed indie projects (Booksmart, The Last Black Man in San Francisco), and this year's dark horse darling, Parasite.
Obama's list for "TV shows that I considered as powerful as movies" included HBO's Watchmen, Netflix's Unbelievable, and Season 2 of Fleabag. Now let's talk about him including the Phoebe Waller-Bridge-created series, because in order for Barack to be interested in watching the second season, he theoretically had to watch the first. That means he must've seen the scene in the premiere episode, where Waller-Bridge's character Fleabag masturbates to a video on her laptop of Obama delivering a speech. And of course, people took notice because, well, that's how the internet works.
Waller-Bridge revealed during her 2016 appearance on the Vulture TV Podcast that Obama scene was "all women wanted to talk about."   
"It was all women wanted to talk about. All the complexities would come out, and people would say, 'Yes, very moved, very moved … I was so glad you said that about Obama, I'd really like to talk about that with somebody.'"